'You Can't Fire me Because I Quit!' – 5 Tips For Quitting Gracefully
Admit it: There have been a few times where you've daydreamed of a dramatic exit from a less than satisfying job. Or maybe you really don't want to leave but a better offer is on the horizon. Whatever your reason for quitting is, it is crucial to do it correctly. No matter what kind of job you're leaving, opportunity exists to turn it into a learning experience you can discuss during interviews. Because the job market is so competitive, prospective employers could ask for job references. The last impression you leave at a place of work is an important one.
Here are ten steps to help you leave your job with poise: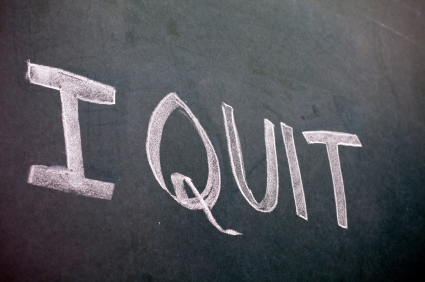 1. Give Advance Notice

Timing is crucial when deciding to leave a job.
Think about why you are leaving. Is it because you had a bad day? Do you have a better opportunity in the works? Are you just unhappy? Never make a decision on whim — although it may look "cool" in the movies, they rarely show the true consequences. Even if you have a job that seems like a better opportunity the best thing to do is make a pros and cons list to see where you could end up in the future. If you are extremely unhappy at your job that is completely acceptable — the best thing to do in that situation is to bear it until you find another job. Even if the job you find isn't your dream occupation it is still better to have something that brings in steady income until you find a more permanent job.
After you have given yourself enough time to think over your decision, give your boss time. Whether your job requires two weeks of notice or not, giving advance notice is a professional move that will show your boss your respect and maturity. Remember: Even if you do not like your boss it is in your favor to leave on good terms. Another thing you should do is type up a formal resignation letter, which could help you maintain a positive relationship with your old employer.
2. Offer to Find/Train a Replacement

Losing an employee can be very stressful for a company because training and hiring a new person takes time and money. If you offer to help with this process, not only are you showing your boss initiative, but you can also add a new skill to your resume: management. Deciding to leave a job can be stressful and sometimes awkward, and the more helpful you are, the less likely there will be any tension. If it was a job you loved you can leave knowing a competent person is replacing you and the company will continue running smoothly.
3. Prepare for Some Negativity
When you decide to leave a job there are many people who may feel hurt or jealous of your decision. It is important that you stay positive and don't say anything you'll regret later. Just because you know you are leaving in two weeks does not mean your work ethic should falter. In fact, you should work as hard as possible before you leave.
An important part of networking and the professional industry is to making sure not to burn any bridges. Sometimes it's the co-workers you were closest to who may be most upset by this news. Be understanding of their perspectives and give them time to accept your decision and the change.
4. Get Your Paperwork in Order

Before you quit, make sure you know when your last paycheck is and how much that amount is supposed to be. Another thing to think about is your health insurance coverage — when you leave, your employer is no longer going to pay, but there are two federal laws that help prevent loss of coverage. These programs continue your coverage while you look for a new insurance plan. To learn more about these federal laws visit the Department of Labor website.
5. Update Your Contact Information

Make sure before you leave your former employer can reach you to forward any lagging mail or other items you may need after you leave. It is also good to leave your information just in case someone wants to contact you for business purposes. Don't be afraid to keep in touch with your last employer, especially if you enjoyed working there. By keeping in touch your employer will be more likely to fill out a favorable and timely reference even further down the line than just your next job search. Having a good relationship with your past supervisor can be very beneficial: You can get career advice, have a job to fall back on if things don't work out at your new job or just have good networking opportunities.
Leaving a job can be a scary-but-important decision. If you follow these steps and leave properly you will be surprised with how many opportunities can open up. If you are just beginning the job search check out this article on 5 Questions to ask Before Saying 'Yes' to a Job Offer.
Ask a Question