World's Fair of Money Successful Despite Poor Economy
Hate carrying around big bills? Imagine carrying around a sheet of $100,000 bills. Armed, uniformed and undercover police officers, along with federal agents, private security contractors, and electronic surveillance equipment will focus their attention on the Hynes Convention Center in Boston until Saturday, August 14, when the World's Fair of Money wraps up.
According to an Associated Press release, this years Fair of Money, "includes a comprehensive collection of U.S. paper money that has never before been exhibited. It has coins from the Mexican War of Independence and Mexican Revolution that are being seen outside of Mexico for the first time since 1970. There also are rare coins worth several million dollars."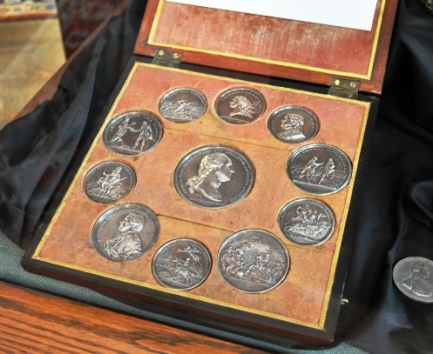 The fair demonstrates that the coin industry is flourishing during the economic crisis. The gathering has brought in nearly 1,000 coin dealers and collectors to the Boston area. Some of the impressive treasures featured include:
A $100,000 bill, which is America's largest denomination currency. It is said to be worth $1.6 million today.
A gold certificate note with former president Woodrow Wilson's portrait.
America's first, and last, $20 gold coin. Estimated current value: $15 million.
The event also showcases 3,400 coins, medals, paper money and tokens to be auctioned. The auction is expected to raise $40 million dollars and during its five-day span. It is expected that $100 million will trade hands, according to Greg Rohan, president of Dallas-based Heritage Auction Galleries.
Rohan was also quoted as saying, "There are an estimated 200,000 serious coin collectors in the United States and more than a million casual collectors who spend about $3 billion annually."
Despite Bad Economy, Coin Collecting Popular
Although other traditional investments such as property and stocks have faltered during the economic crisis, the very best coins have maintained their value, if not increased in worth. There are still some coins that have seen value loss but collectors have remained undeterred. Collectors' demand for material currency has not been quelled. Their passion for collecting such prized items trumps worries brought on by a weak economy.
The show will also include a collection of U.S. paper money that has never before been on exhibit, as well as million dollar coins. If you are not interested in money, you could check out the other historic items, including one of the last surviving copies of the Declaration of Independence.
Ask a Question