Bank of America Free Museum Admission Continues
Bank of America®'s "Museums on Us" program, which gives customers free admission over 100 museums in 24 states on the first full weekend of each month, is still in place. The deal continues for the rest of the year. All you have to do is present your Bank of America® debit or credit card and photo identification at the museum's ticket booth.
The deal serves as a fresh alternative to common points or cash rewards. It is also a welcome change to see a bank taking effort and spending money to reward the customers who maintain basic accounts such as checking or savings. The program does not cover every state, but nearly half of the nation's states* are represented in "Museums on Us." In New York City, for instance, you can choose any of five museums, including the Metropolitan Museum of Art, to attend free of charge.
To find participating museums near you, check out the Bank of America® informational site. You can also sign up to receive E-mail reminders when free museum admission is available.
*The states covered under the program: Arizona, California, Connecticut, Delaware, Florida, Georgia, Illinois, Kansas, Maine, Maryland, Massachusetts,
Michigan, Missouri, Nevada, New Hampshire, New Jersey, New York, North Carolina, Oklahoma, Oregon, Pennsylvania, Rhode Island, South Carolina, Tennessee, Texas, Virginia, Washington and Washington D.C.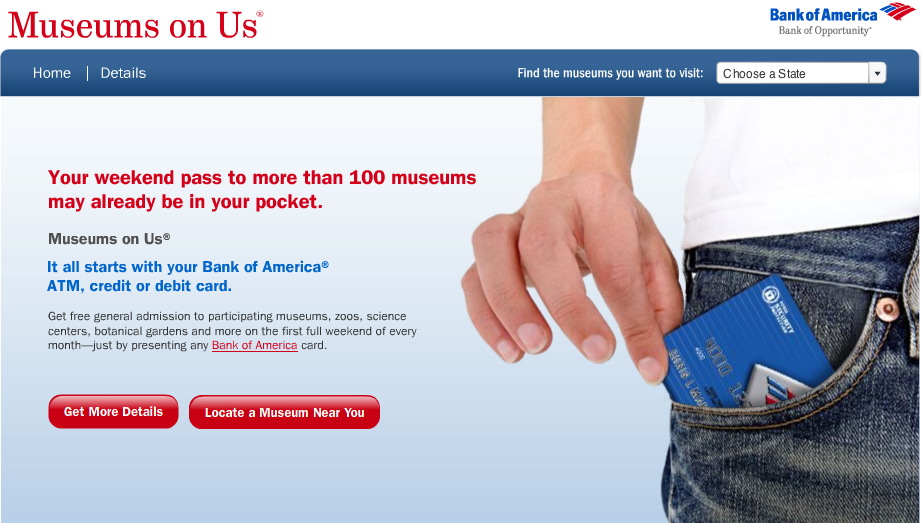 Ask a Question