MasterCard inControl Helps Spenders Stick to a Budget
Credit card companies are getting better and better at protecting your account from thieves. Now MasterCard has come up with a way to protect your money from you.
MasterCard inControl is a nearly all-encompassing budget protection tool that is making its way to the states soon. It is currently available overseas to users of the Royal Bank of Scotland and Barclaycard. MasterCard's service, which is soon to be picked up by Citigroup, according to The New York Times, can limit your spending automatically and provide you protection from external sources of fraud.
Automatic Limits on Monthly Spending
Trying to cut back on expensive restaurant dinners? Looking to slash your entertainment budget to the bone? Taking these steps on your own can prove difficult and frustrating even if you are in control of your budget. MasterCard can help you out by providing built-in and customizable spending limits as part of inControl.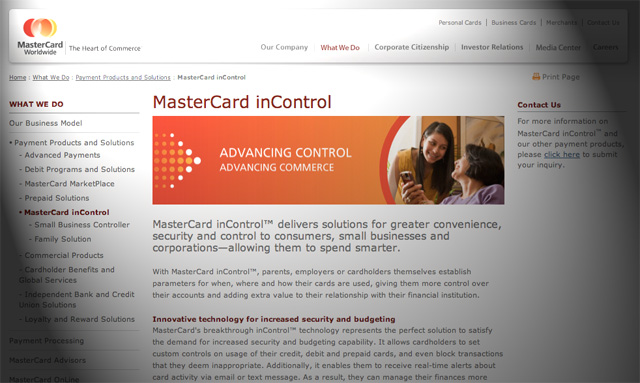 You can divide your spending up into specific categories, such as entertainment or dining out. Once you hit that limit, you won't be able to spend any more using the Citi MasterCard until your next budgeting period begins. This takes the "stick-t0-a-budget" functionality offered by many online services and gives it a tangible impact on your wallet. At first, Citi will only include spending alerts, not spending limits. The service should eventually add the functionality of spending governance. MasterCard competitor Visa offers a service that alerts consumers when they reach a certain spending total but not a card that restricts over-budget expenditures.
Staying Fraud-Free
The main way inControl has been used to this point is as a fraud-fighting tool. The service allows you to program your account to block transactions from certain locations or to block any expensive transactions. Using inControl, you can tell the service to put a hold on any purchases made from countries you know you won't be visiting any time soon or on any six-figure spending sprees.
Fifth Third Bancorp adopted part of MasterCard's service on its commercial accounts. Businesses with Fifth Third MasterCards can authorize employees to make company purchases while keeping tabs on the items employees buy. Companies can set strict boundaries on which bars, restaurants and hotels employees can expense to the business.
Ask a Question