Looking at the performance of gold as an investment over the past 15 years, it's logical to want to put money into the commodity. Since leveling off in the late 1990s, the metal has shot through the roof, multiplying in value five-fold. Despite the popularity and extensive history of investing in gold and other commodities, it can seem a bit more intimidating than walking down to your nearest bank to open a savings account or signing up for an E*TRADE account to buy and sell stocks. So how do you invest in gold? Here are a few helpful hints about the commodity: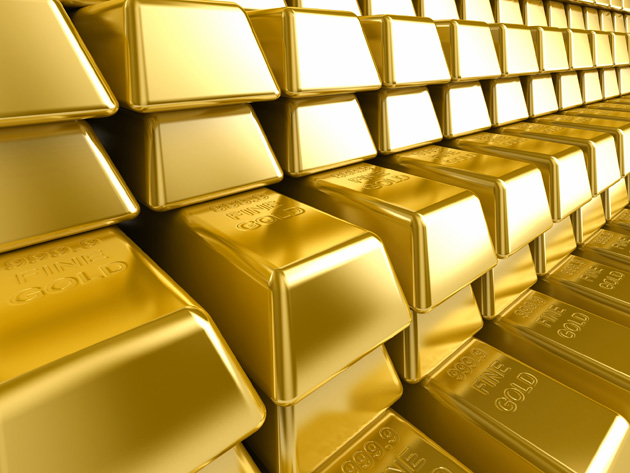 Gold Comes in Many Forms
You can buy gold in a few different forms. Each is different and offers varying pros and cons.
One of the most common forms in which to own gold is as bullion. Bullion is gold cast as either a coin or larger bar. Gold in bullion form is available at local gold coin shops as well as through online dealers such as Apmex.com or AmerGold.com. If you plan to buy gold coins, watch out for "collector's premiums," which can sometimes be tacked onto collectible gold pieces. Owning the gold in standard bar form can help you avoid these fees. Bullion bars offer the cheapest way to own physical gold, but storage could be a problem and you could end up paying for safe-deposit box space if you have limited room at home. You need to consider the possibility that your gold could be stolen if you keep it in a physical form.
If you want to have the bank hold all your physical gold in an account, consider opening a pooled account. A pooled account is just what it sounds like: A place where your gold assets are pooled and protected from theft or loss. With surcharges at or about 1% of the commodity's market price, holding your gold in such an account is generally more affordable than maintaining a safe-deposit box for your bullion. This is an affordable and safe way to store your gold.
Exchange Traded Funds (ETFs) offer a good way to diversify your investments without leaving the gold category. You can buy gold shares within an ETF and you will get bits and pieces of many different gold investments, meaning your investment would be spread across the entire market. ETFs are cheap to own, but all income is taxed at an extremely high rate (above 25%).
If you want to invest but avoid owning actual gold — or even shares of it — the best way to allocate your money might be in mining stocks. Mining stocks are shares of the companies that mine for gold below the earth's surface. This is a little different than purchasing plain gold or even ETFs in that you need to account for the company's well-being and standing in the global marketplace.
EverBank, Bank of America Offer Deals
If you're interested in investing in gold or another commodity but unsure of how to start, EverBank and Bank of America-Merrill Lynch are offering plenty of incentive to begin with a pair of special offers.
EverBank's offer is simple: If you open a MarketSafe commodities account at the bank before September 16, you will get 100% assurance that you will receive all of your funds (or more) back. It's not often that a market- or commodity-based investment can offer a fail-safe return, making this a strong deal from EverBank.
Bank of America and its brokerage firm, Merrill Lynch, are offering 30 free ETF trades for customers who sign up for the Merrill Edge investing tool and keep at least $25,000 in their account.
Ask a Question