U.S. Bankruptcy Rate Skyrockets
The financial crisis just won't go away. It has manifested itself in the poor performance of the housing market, the failure of hundreds of banks and an unemployment surge. One more problem that has emerged as a result of the recession is the soaring rate of bankruptcy filings across the nation. Bankruptcy filings rose by 20% in the past year, according to the Administrative Office of the U.S. Courts. A stunning total surpassing 1.5 million bankruptcy cases were processed between June 2009 and June 2010, up from about 1.3 million in the prior 12-month period.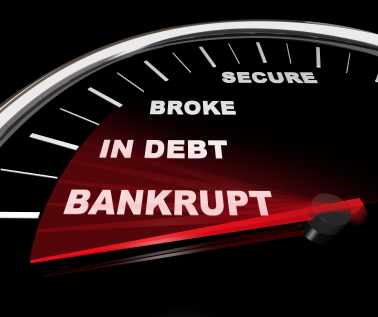 When Will the Economy Turn Around?
Everyone from the unemployed to U.S. lawmakers are asking the same question: "Will the economy ever return to where it was a few years ago? If so, when?"
That's a tough question to answer for even the most advanced economic thinkers. Many think the economy has stalled so badly that the U.S. dollar could experience deflation. The last time the American economy dealt with deflation was in the 1930s. Economists are also wary of the possibility of a "double-dip recession," in which the economy would not only stall but plunge back toward the depths it hit several years ago.
Bad News All Around
Not many sectors of America were spared from the increase in bankruptcies over the past year. Chapter 7, Chapter 12 and Chapter 13 bankruptcy rates all skyrocketed by between 10% and 56%, while Chapter 11 bankruptcies inched up by 2%. Businesses fared better than individuals, but both struggled. Businesses filed for bankruptcy 8% more often than they did one year earlier while citizens faced a 21% higher bankruptcy rate than they did in the previous 12 months. The quarter ending June 30 was the worst of the past four, as the bankruptcy rate went up about 9% from the previous quarter.
The regions of the U.S. that struggled most were the ones hit hardest overall by the financial crisis. The Southwest, including southern California and Nevada, suffered from bankruptcy rates upward of 12 filings per 1,000 residents. Regions of Southeastern states such as Tennessee and Georgia struggled through similar rates. The Northeast and Midwest fared the best, with many regions experiencing rates as low as two filings per 1,000 residents.
Ask a Question