Credit Card Debt Drops to 8-Year Low
Could it be? Some good financial news among all the reports of unemployment and debt crisis? Yes, it looks like it. American credit card debt has dropped to the lowest level since 2002, according to the Associated Press.
TransUnion, a credit reporting agency, crunched some numbers and found overall consumer debt decreased on MasterCard and Visa cards. These bank-issued credit cards held about $5,719 in average combined debt at this time last year, compared to $4,951 this year — a 13% decrease. This is the first time credit card debt has fallen below $5,000 in any three month period since 2002, according to TransUnion.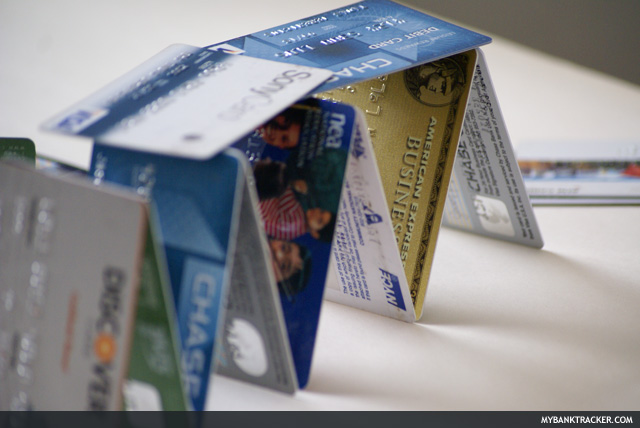 Like most money matters, this relates to wider economic factors. Director of Consulting and Strategy in TransUnion's financial services unit Ezra Becker discussed the reasons behind this statistical improvement, mentioning that more and more Americans are trying to repair their credit because of the uncertainty of the job situation. Becker also cited the poor housing market. It becomes more difficult to profit from home equity when money is tight: "You can't buy groceries with your house anymore," according to Becker.
Another credit card trend: Consumers are not signing up for as many cards in general. The number of new account openings nationwide dropped by 6.5% from last year, according to the AP.
State-by-State Debt Breakdown

TransUnion also analyzed credit card debt in individual states:
– Alaska had the highest amount of debt at $7,148, still a 7% decrease from last year.
– 22 states recorded personal debt at a higher rate than the national average.
– 16 states had a higher-than-average delinquency rate in comparison to the nation.
– Nevada had the highest delinquency rate at 1.5% of cardholders. Florida followed behind with 1.24% while Arizona and California had 1.11% and 1.08%, respectively.
– North Dakota and South Dakota had the lowest rates at 0.54% and 0.55%, respectively.
Overall, it looks like Americans are really pushing to regain control of their spending and have become more conscientious about taking on debt. If you would like to add to these positive statistics by avoiding credit card debt, check out this article on Four Steps to Avoid Credit Card Debt.
Ask a Question