Bank Executives Take Pay Cuts
The average pay of top bankers in the U.S. and Europe fell about 60% during 2009, according to data released by The Financial Times.
The study looked at the salaries of 17 bank chiefs and found that some of the biggest cuts were given to Goldman Sachs Bank USA CEO Lloyd Blankfein, Barclays CEO John Varley and JPMorgan Chase Bank CEO Jamie Dimon.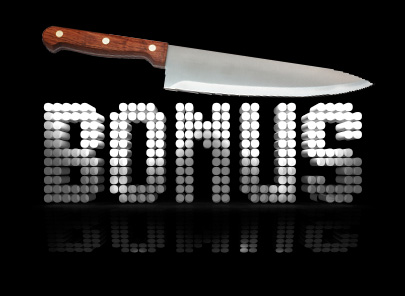 Big Bankers Still Earning
A 60% pay decrease sounds like a steep cut, but these top bankers are still earning millions each year. According to the pay research firm Equilar, the average pay for a bank CEO fell from $14 million in 2008 to $6 million in 2009. One reason for the pay decreases was the controversy and anger sparked by the executive bonuses granted during the financial crisis. When Americans and the British found out how much bankers were making in bonuses, public outcry motivated regulators to try to limit the amount of money executives could earn.
When America's Dodd-Frank Wall Street Reform and Consumer Protection Act was signed into law, many changes came to the financial industry and its pay practices. A clause in the act, titled the "Say-on-Pay" vote, requires shareholder approval of executive compensation.
According to a summary of the act published by Proskauer, an international law firm, "Under the Act, public companies must provide shareholders with a "say-on-pay" vote to approve the compensation of their "named executive officers" as disclosed in the Summary Compensation Table contained in companies' proxy statements at least once every three years."
Some Avoid Pay Cuts
Some CEOs were able to sneak around the pay cut. Credit Suisse's Brady Dougan, as well as Josef Ackerman of Deutsche Bank saw pay raises of 550%. Dougan now earns $18 million annually while Ackerman earns $13 million per year. Whether they got a pay decrease or increase, the earnings of top bankers are still a shock to many Americans and Europeans who consider the high salaries unfair and unnecessary. As different sections of the reform bill are coming into practice, bank executives' pay could continue to fall in line with social norms.
Ask a Question