Looking for a way to process credit card payments on the go? There's a new iPhone application available from mophie and Intuit that could help out. The "Complete Credit Card Solution" is an app that can process payments using just an iPhone and a credit card reader attachment.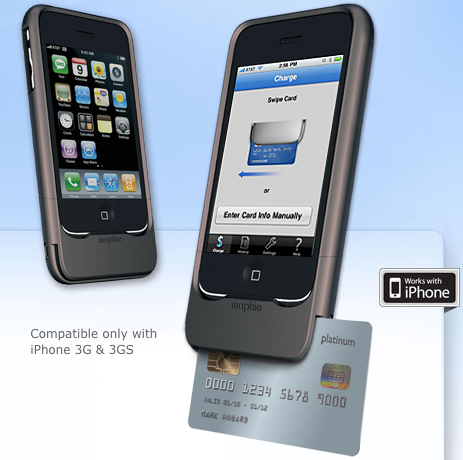 "We designed this to meet the needs of small businesses who want a complete credit card solution that works with their iPhone," said Chris Hylen, general manager of Intuit's Payment Solutions division. "Now we have a best-in-class solution from Intuit and mophie to meet that need. This means that a business owner only needs to buy one package to get set up with everything they need to start taking mobile payments even before they leave the store."
Companies Combine Resources
The new product is a combination of two current offerings. The Complete Credit Card Solution is essentially a mophie iPhone case equipped with a card reader at the bottom and the Intuit GoPayment app. The mophie marketplace card reader can be clipped onto the iPhone for immediate card-reading capability. The GoPayment app can be synced with QuickBooks Mac if your business wants to keep its transactions aligned between mobile and office locations.
Competition For Square
The mobile credit card payment market already has a fairly established name in Jack Dorsey's Square, a system that similarly relies upon an app and an accompanying piece of card-reading hardware. The main advantage Intuit and Mophie could have from the start is an active base of users. Intuit, the company that offers services such as Quicken and TurboTax, is a 27-year-old, $3.5 billion company. Its GoPayment system has processed $35 million in small business transactions in the past year, according to an Intuit release.
The main difference between the two offerings — and Square's biggest advantage — is the price tag. The Complete Credit Card Solution costs $179.95 at Apple stores. Monthly fees for the company's GoPayment service run $12.95 per month. Square is a free service that is available on iPhone and Android.