FDIC Adds to Troubled Bank List
More small banks are faring poorly while many big banks succeed, according to the Federal Deposit Insurance Corp. (FDIC). The government organization released Tuesday its Quarterly Banking Profile, and the results were mixed.
Many small banks struggled during the second quarter, as more fell onto the FDIC's troubled bank list, which now numbers 829. Some large banks reeled in another quarter of robust profits, however, bringing the banking industry's total ledger to plus-$21.6 billion in the second quarter. Two-thirds of banks recorded stronger year-over-year earnings in second-quarter 2010.
"Without question, the industry still faces challenges," said Sheila Bair, FDIC chairman. "Earnings remain low by historical standards, and the numbers of unprofitable institutions, problem banks and failures remain high. But the banking sector is gaining strength. Earnings have grown, and most asset quality indicators are moving in the right direction."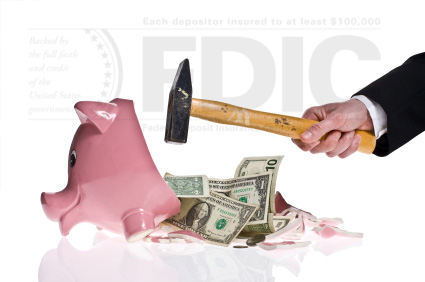 Small Banks Not Doing Well
The total number of institutions on the troubled banks list rose to 829 from 775. That means more than 10% of the banks insured by the FDIC are designated as troubled. The number of problem institutions is at its highest rate in 17 years. In 1993, more than 900 banks were deemed troubled. The number of institutions faring poorly has risen steadily as the economy has soured and leveled off. In 2008, just 90 banks were deemed troubled. Since that point, the list has grown nearly tenfold.
Small banks were more likely to struggle than their bigger counterparts were. Of the 829 problem banks, 414 were listed by the FDIC as small or mid-sized. Many of the 54 banks added to the list in the second quarter were small community banks. The FDIC expects the number of bank failures to peak sometime this year. No banks failed this past week, but 118 have failed since the beginning of the calendar year, meaning 2010 is on pace to surpass 2009's 140 bank failures. Despite the surging number of bank closures, the Deposit Insurance Fund (DIF) used by the FDIC to help fund the failures has actually gained about $5 billion in the second quarter.
Banks Ride Loan Returns
The biggest boost banks got in the second quarter was from improving returns on loans. As more consumers and businesses pulled out of the recession and began repaying bank loans, the banks' revenue streams picked up to more normal levels. Banks received 40% better returns on loans than they did one year earlier while interest income grew by 9%. Consumers were a bit more cautious when taking out loans, as total loan levels dropped by about 1%.
Ask a Question