Americans Choose Riches Over Being Smarter, Thinner, Younger
If you could one of the following: Younger, thinner, richer or smarter, which would you choose?
The majority of American men and women would choose to be richer, according to an AdWeek Media/Harris Poll that surveyed 2,163 U.S. adults.
The survey also looked at the differences in choices between gender and age. More men (46%) said that they would like to be richer than women did (41%). It is interesting to note that the higher percentage of money-minded males could reflect the traditional male role in society of being the earner in a household. The age group with the highest number of people who chose "richer" was the 35-to-44 group, at 53%, followed closely by 18-to-34 year-olds, at 50%. The age group with the fewest financial dreams were 55+ year-olds, at 34%.
The survey also looked at households with children and those without. The households with children were 7% more likely to want more money.
"The largest percentages of Americans' desires represent changes that are more or less achievable, through smart choices, hard work and dedication. On the other hand, the Americans who want to be younger should just keep dreaming," according to the release.
Americans who are unhappy with their weight or finances can take steps in order to change this. From hiring a trainer to trying to find a better-paying job, these are things people can control at any age.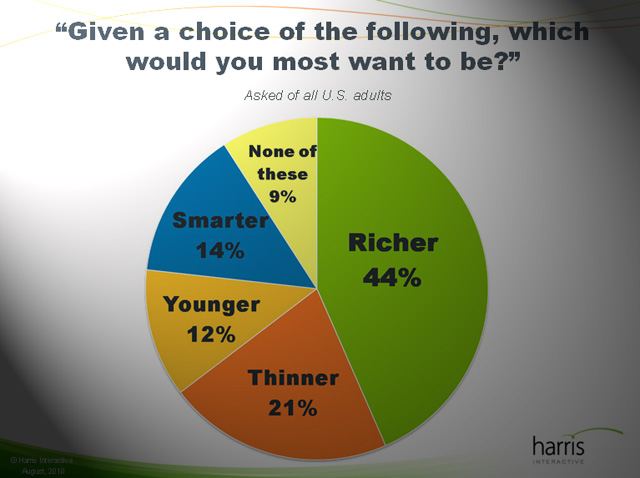 According to the study:
1 in 5 surveyed said they would like to be thinner (21%).
1 in 7 wanted to be smarter (14%).
1 in 8 would like to be younger (12%).
1 in 10 decided not to choose any of the options listed, indicating they were content with their lives (9%).
How to Become Richer
Yes, it is easier said then done, but increasing your savings is attainable by setting a smart budget and sticking to it. The weak state of the economy makes all sorts of investing risky, and the poor housing market does not help the issue. This is why it is best to turn to simple techniques for saving money and for proper budget management. Check out this article on 5 Timeless Money-Saving Tips to get some ideas on how you should handle your money.
To see the results of the survey click here.
Ask a Question