Tired at Work? Ditch the Coffee, Take a Nap!
Everyone has experienced that time in the work day: Your eyelids get heavy, the coffee buzz wears off and all you can think about is how comfortable your bed is. According to Businessweek, many companies are beginning to consider an unusual alternative to caffeine to battle the 3 p.m. energy crash.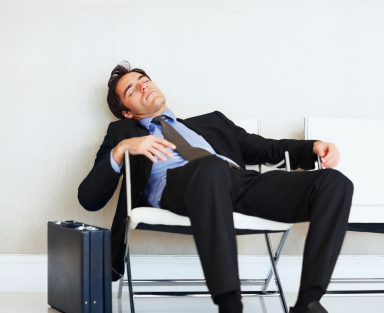 Recently, studies found that happy workers are more productive workers. It seems that taking measures to keep employees content is a growing trend among big corporations. After realizing that many employees are not getting enough sleep, some companies have decided to add a daily nap to their work schedules.
"With Americans averaging fewer than seven hours of sleep per night — and around 20 percent suffering from sleepiness during the day, according to a recent Stanford University study — many companies have turned to the humble nap in an attempt to stave off billions in lost productivity each year," according to Bloomberg.
Nike, Google Set Trends
Big corporations like Nike and Google have always been on the forefront of employee perks with gyms and child care facilities. The companies have now added quiet rooms and napping pods for employees who need to take naps or meditate. What is more surprising is that smaller companies are jumping on this nap-time trend. A small mobile technology company in Scottsdale, Ariz., called Jawa, has two options for employees looking to grab some shuteye. A couch for those looking for a traditional nap place, or a nap pod similar to the models that Google provides its employees.
Not all companies are restructuring their office space to provide quiet places for relaxation: Some are outsourcing to Yelo, a New York-based company provides sleeping solutions to employers with overworked employees. Yelo "has provided its services to Hearst, Newsweek, and Time Warner. It offers naps in a 'cocoon-like' treatment room in which clients can adjust aromatherapy, sound, and lighting. A 20-minute nap goes for $15. (A half-hour "Nap Plus"—including a ten-minute foot rub—costs $40.)," according to Bloomberg.
Napping in the workplace might sound like a strange concept to some, but with the ever-growing emphasis on health and wellness it makes sense to add a few needed Zs to employees' days.
MyBankTracker.com wants to know what you think. Do you think it's okay to let employees nap during work? Or should they just go to bed earlier?
Ask a Question