SmartyPig Interest Rate Drops Nearly 20%
Social savings site SmartyPig dropped the APY on its standard savings account to 1.75% this week from 2.15%. The decrease affected accounts containing less than $50,000, as high-balance accounts earned only 0.50% in the first place.
Update: On January 3, 2011 SmartyPig lowered their Intertest Rate to 1.35%. At this rate, the account is now on par with standard online savings accounts, such as American Express and Discover Bank. As a reminder SmartyPig prides itself on helping consumers meet goals with bonuses and coupons.
CEO Defends Rate Drop
The site, which offers users high-yield savings accounts and a unique way to save up for goals, made a proactive move to discuss rate drop to consumers through a blog post authored by CEO Bob Weinschenk. In the post, Weinschenk defended the company's move by explaining that poor external economic conditions caused the service to drop its rate and that SmartyPig was focused on saving money to make it a better product in the future.
"We all have to tighten our belts during these difficult financial times," Weinschenk wrote. "We all need to watch our pennies and get back to the basics. Cutting back is a big part of "getting back," after all, and we thank you for continuing to reach for your goals with us."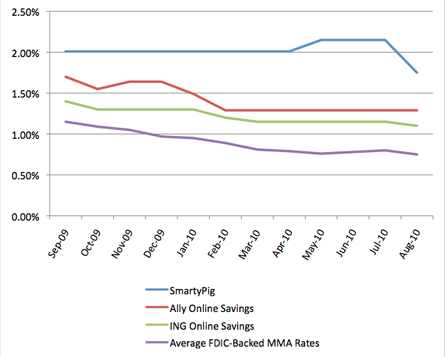 Weinschenk stressed the fact that SmartyPig still offers a comparatively high rate (higher than competitors Ally and ING DIRECT) and cash back at certain online retailers.
Some online commenters on the SmartyPig blog were none too pleased with the CEO's explanation, while others said they understood the company's need to save some money. Some of the unhappy SmartyPig members wondered whether the account's rate plunge had anything to do with the service's July move to BBVA Compass. SmartyPig had previously stored its deposits with West Bank, a regional institution based in Iowa. In July, SmartyPig announced it would partner with BBVA, the nation's 15th-largest bank, effective August 1. Since big banks tend to offer lower rates than their smaller counterparts, many wondered whether the lower rates were a product of the migration away from West Bank.
So Why the Rate Drop?
We wondered if the blog commenters might have a point about BBVA influencing SmartyPig's rates less than a week after the official merger. So we reached out to our contacts at the company to see what they had to say.
The rate drop did not have anything to do with the account's move to BBVA, according to SmartyPig public relations. Instead, the plunge had to do with the very low current treasury rates, and the company did all it could to hold the rate at 2.15% "as long as possible." In a bit of good news, the interest rate on the account could conceivably rise again in the future.
"SmartyPig's rates will continue to adjust, at least to some extent, with the treasury rates," said a SmartyPig representative. "We hope that interest rates increase … in the very near future."
Ask a Question