Amazon and American Express Partner to Bring More Purchasing Options
American Express announced its partnership with Amazon.com, giving customers the opportunity to use Membership Rewards points for Amazon purchases.
This is a great way to provide flexibility to cardmembers when making purchases. Typically, card companies allow rewards points to go toward one thing such as travel discounts, because of all the purchasing categories on Amazon.com, American Express will have a larger variety of options for customers to choose from.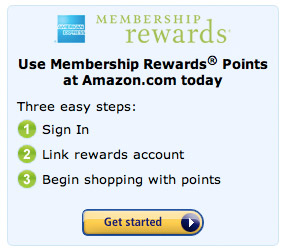 According to Lynn Biggar, senior vice president and manager of Membership Rewards at American Express, the new program is "a major step forward in the evolution of the Membership Rewards program, which began as a travel-focused program and has since expanded to include dining, entertainment, retail and many more redemption options."
The new benefit will also give members the ability to use points toward books, sports equipment and more.
How to Set it Up
If you are an American Express cardmember already it just takes three quick steps to set up:
Click this link and sign in with your Amazon.com account.
You will be given detailed instructions on how to link your Amazon.com account and your Membership Rewards account.
Your Membership Rewards points will be available immediately after you link accounts.
The way the Membership Rewards Program works is cardmembers earn one point for almost every dollar they spend with their card. This is a great program for people who expense things on their credit card to keep earning while spending.
One of the few drawbacks to this new partnership is that the added convenience and expanded product options might make it tougher for some customers to save money. Try to avoid impulse buys and treat your points as actual money. That way you can save even more by making purchases that you need, as opposed to ones that you merely want. Amazon.com is a good website to utilize for your online shopping because it offers great deals and discounted prices offered to customers that can only be found on the Internet.
Ask a Question