Plan Your Commuting Costs With Abogo
Before choosing a place to live, you'll obviously take into account two main questions when evaluating your financial situation: How much will you earn in your chosen profession? How much will you pay in rent or mortgage costs? There's another important question that too often goes unasked: How much will transportation cost?
Depending on where you choose to settle down, the amount you pay each month to get around could vary widely. You might live in a bustling, walker-friendly city filled with public transportation options. You might live right down the street from your place of work. You might live in a suburban hamlet an hour's traffic-packed drive away from the city. Maybe you live in a rural location, far away from stores and amenities.
If you are trying to set a budget for a prospective relocation and need to balance your transportation costs, take a look at Abogo. The site, created by the Chicago-based pro-sustainability nonprofit Center for Neighborhood Technology, provides down-to-the-address commuting cost reports. Abogo calculates how much the average household in any given location spends on transportation by factoring in the cost of fuel, amount of driving, car insurance premiums and payments. You can also gauge how much carbon dioxide your vehicle would put into the atmosphere each month compared to the national average.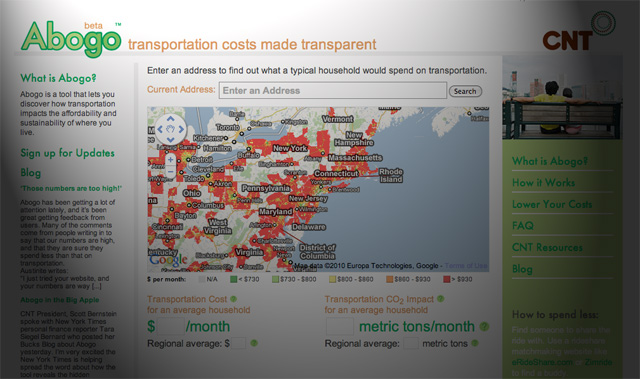 How do Cities Stack Up?
We plugged in a few select cities to gauge the accuracy of some common commuting cost myths. Here are the results:
Thousand Oaks, Calif., might be a wonderful place to live, but it's not a wonderful place to drive. The suburb of Los Angeles requires $913 per month in travel expenses for the average household. Your carbon footprint, at 0.62 metric tons per month, isn't as damaging as it would be in some other areas of the country.
New York City, a haven for public transit riders, walkers and cyclists, has especially low transportation costs. The average NYC household pays just $288 per month to get around and creates just 0.29 metric tons of CO2 per month.
Mesquite, Texas is a suburb of the mega-city known as Dallas-Fort Worth. Making your way around the fourth-largest metro area in the U.S. costs $878, nearly four times as much as it does in the Big Apple. You'll also be spitting out nearly one metric ton of CO2 every four weeks.
Highland Park, Ill., just north of Chicago, offers a more manageable commute than its counterparts in Texas and California. Households in Highland Park pay an average of $833 per month and emit 0.57 metric tons of CO2 per month.
Lawrence, Kan., shows the importance a few blocks can make. An average household in a central walker- and cyclist-friendly neighborhood would spend $683 per month. Move several miles south to a more isolated, car-centric neighborhood and your commuting costs would rise to $871 per month.
Walk it Out With WalkScore
If you want to grab some walking shoes and ditch your fuel and car insurance costs completely, you should check out Walk Score. The site analyzes your address and generates a score — from 1 to 100 — of how "walkable" your area is.
The site takes into account the locations of various amenities, such as schools, shopping, restaurants, gyms and others to calculate your magic number. If your walk score is at 80 or greater, you should be able to save some money and get some exercise. If your number comes out to 50 or below, you might be tethered to your automobile until you find a more convenient place to live.
Ask a Question