This is the third in a series of guides to finding ATM fee-free banking. The first provided tips for avoiding ATM fees and the second discussed where you can find no-ATM fee checking accounts.
For many people, choosing a bank is usually based on how close a branch is located to their home and place of work. With the growth of online banking and the recent surge of rewards checking, an increasing number of banks without a lot of ATMs have begun trying to compete by reimbursing ATM surcharges.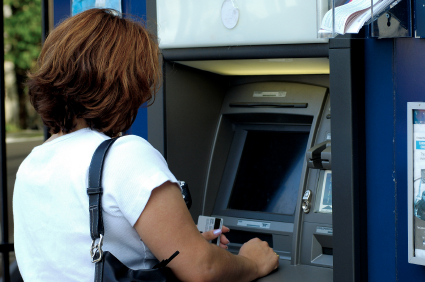 Beyond savings hundreds of dollars a year on ATM fees, this perk allows consumers to use whatever ATM they want without searching for their bank. More specifically, some banks waive all ATM surcharges or reimburse charges by a third party ATM owner.
Here are a few of the bank accounts MyBankTracker.com tracks that offer ATM reimbursements:
Banks offering unlimited reimbursement – Checking Accounts:
Ally – Interest Checking
Charles Schwab Bank – High Yield Investor Checking
ETRADE – MaxRate Checking: requires $200 monthly direct deposit
PNC Bank – All checking accounts: requires $2,000 balance
TD Bank – Simply Free Checking: requires $2,500 balance
ING DIRECT — Electric Orange
Banks offering reimbursement with restrictions – Checking Accounts:
Amegy Bank — MyLife Checking: Six rebates/month
Bank Direct — All checking accounts: $10/month, max four transactions, $0.25 per transaction, requires $2,500 blance
Bank of Internet — Checking USA: $8/month, requires $5,000 average balance
EverBank — FreeNet Checking: $6/month
KeyBank – Advantage Money Market: $12/month
M&T Bank – Power Checking: 15/month, $2 max per rebate, requires $50,000 balance
First Internet Bank – Interest Checking: $6/month
Banks offering reimbursement with restrictions – Savings & Money Market Accounts:
Ally – Money Market Account: $6/month
First Internet Bank – Money Market Savings: $6/month
HSBC Advance – Online Savings: max three transactions/month
MetLife Bank – Money Market: $5/month, requires $1,500 balance