Wal-Mart Money Center Launches Check Printing
Wal-Mart is no stranger to controversy as its low prices, low wages and huge buildings not-so-subtly force their way into neighborhoods everywhere. Many protest the store while others can't help but shop at the largest retailer in the world. Prior to this year, the only relationship banking had to Wal-Mart was supplying money for its shoppers.
Recently, Walmart has decided to take the brand into the banking industry.
The Bank of Wal-Mart in Canada
While the U.S. Wal-Mart has stayed on the outskirts of the banking industry, Canada is a different story. In the first week of June 2010 Walmart announced that it had final approval to launch the first ever Wal-Mart Bank. After the U.S. based retailer received regulatory approval in Canada they set their launch date for June 15, 2010.
Launching a bank in Canada — although a big step — was not as big as a step as launching one in the U.S. because Canada does not have as much banking competition compared to the United States.
Wal-Mart is one of the few major retailers that has found the opportunity to improve during a recession. Many budget-bound Americans turn to Wal-Mart for its lower retail prices and variety of goods.
Is the U.S. Next?
In 2007, the store ended its attempts to launch a bank due to staunch opposition from banking officials and watchdog organizations.
Wal-Mart Financial Services President Jane Thompson released a statement in 2007 saying, "At no stage did we intend to use the [Industrial Loans Corporation] to establish branch banking operations as critics have suggested — we simply sought to reduce credit and debit card transaction costs."
There has been no other news of the retailer opening a branch but, since then, it has been slowly but surely been offering more and more services that are uncannily similar to those of banks. Many Americans are beginning to turn to non-traditional banking as they lose faith in the American banking industry. The fact that Wal-Mart has not launched a full blown bank does not negate its ability to possibly put a dent in the financial services industry.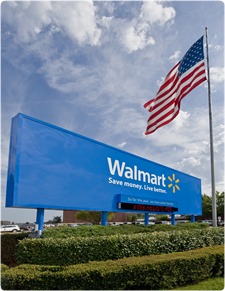 Wal-Mart Money Center
Wal-Mart already offers a credit card to customers, currently offering $20 off the first $100 spent at Walmart.com. In 2009, the store launched the MoneyGram Express Bill Payment a service designed to help the unbanked or underbanked. Recently, Wal-Mart launched a Go Green check printing service in which customers have the ability to purchase personalized checks at their local store. Wal-Mart claim
s its checks sell for 50% of standard bank check costs.
It looks like the financial leaders at Wal-Mart know what they are doing by finding more ways to get around not having an actual bank but still offer banking services. The small banks may have felt like they dodged a bullet when the FDIC shut down plans for a Bank of Wal-Mart, yet the superstore continues to grow and evolve their money center options. The banking industry isn't the only one that should keep an eye on the superstore, according to mashable.com.
Wal-Mart has just launched its own "Branded Wireless Plans" which are of course some of the cheapest deals available. Technically, the Wal-Mart Family Mobile phone will be on T-Mobile's network. The plan starts at $35 and the storeplans to offer five phones, discounted of course, for now.
Ask a Question