Credit Card Reward Points Lose Value With Online Shopping
American Express announced last week that it had struck a deal with mega retail site Amazon.com to allow members the ability to use their Membership Rewards points to purchase items in real time.
This newly formed partnership gives the ability to directly apply earned points to your online purchases. Are customers willing however to receive a lower value for earned points or lower return on their investment that the points represent in order to be able to use them in "real time"?
For those of you familiar with credit card rewards programs, the most common amount of return is one penny for every point. For example, 1,000 membership rewards points is equal to a $10 Gift Card at the Gap, or a $50 Zappos.com Gift Card will cost you 5,000 points. This standard conversion seems to work for retailers because they know consumers will probably spend more than the amount on the card. Additionally, as with most gift cards, a percentage of recipients will forget they have the card or even lose the card, creating a win-win for both the retailer and the credit card company. Mail in rebates is another example of companies calculating that less then 10% of customers will ever submit the rebate.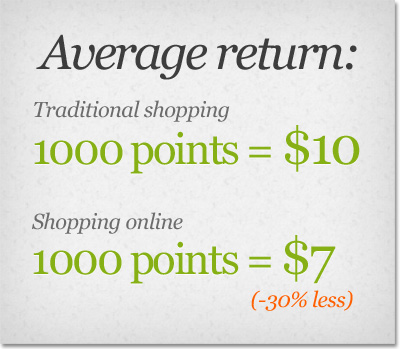 Converting Points: Gift Cards vs. Direct Online Purchases
With cardholders now having the ability to use points to pay for all or part of their purchases — including tax and shipping in real time on Amazon.com — the conversion rate changes drastically. Membership Rewards points are now worth seven-tenths of a penny or $7 for every 1,000 points. This is a 30% reduction in value for the ability to use your points in real time. When you factor that you can buy an Amazon.com gift card through Chase at a 1-to-1 value of points to pennies, why would you ever accept this reduction in purchase value?
In reviewing stores that offer online rewards and that allow credit cardholders to purchase items online using points, you will find that this seven-tenths value spread was quite common. For example, a fourth-generation iPod Touch 8GB which costs $229 would run you 29,500 points – a 77% return on your spending. The Citibank Thank You rewards program provided a lower return, asking consumers to use 37,300 points for the same iPod Touch.
Being Penalized for Online Shopping
There is no doubt the number of consumers who shop online is growing.
This online behavior is becoming more and more common with each holiday season. Online retail spending in 2009 reached $29.1 billion, according to comScore, a service that measures the digital world. On average, a number of companies are experiencing 15% online growth in 2010, according to eMarketer, a digital intelligence service.
As online ecommerce becomes more ingrained in consumers' buying habits, it makes sense that credit card companies will create partnerships that allow real time usage of member points. What's disappointing is how much consumers are being penalized for this "privilege" to use hard earned points. It will be interesting to see how this trend plays out, but for now consumers should hesitate before using points for direct online purchases.
Points for Cash is the Way to Go
For any consumer, cash should always be the number one option. As with gift cards, credit card companies offer cash back redemption at the exact same valuation. Both Chase and Discover offer $25 cash back for 2,500 points. One might wonder how often consumers opt for points-to-gift card conversion purely for gift-giving scenarios compared to actual member usage.
Other options you should look for are cases in which you could redeem your points for statement credit. If you choose this option you could pay off your monthly credit card bill with points you earned. Making transactions with the card can definitely help create smart spending habits.
The opinions expressed in this commentary are solely those of Alex Matjanec.
Ask a Question