Citi CEO Pandit Speaks About Bank's Philanthropy
Citigroup CEO Vikram Pandit will speak today at a conference aimed at promoting saving and asset-building among low- and moderate-income American families. The three-day event, sponsored by the Corporation for Enterprise Development (CFED), is held in Washington, D.C., and received support from large banks such as Citi, Bank of America® and Capital One Bank.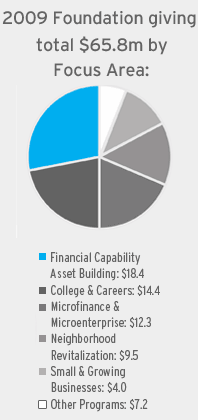 Pandit will discuss Citi's ideas on how to involve un- or under-banked Americans in the nation's banking system. He will also accept the Assets and Opportunity Award from CFED.
Citi Stresses Philanthropy
The reason Pandit will receive the CFED's award is because of Citi's work producing products and offering services that assist low-income Americans with saving for college, retirement, or other important life steps. The Citi CEO will speak about the bank's new business and philanthropy model, new partnerships the bank is creating to provide banking for underserved communities, and "and vision for partnering with organizations to provide underserved communities with access to capital and innovative savings programs," according to the release.
In 2009, Citi Foundation gave $65.8 to various charitable causes, the largest chunk of which went toward asset-building and financial capability. The bank also contributed in 2009 to college funds and small businesses.
Other Speakers
The three-day event will feature other prominent figures from the banking world. Wednesday's headlining guest was Michael Barr, an official in the U.S. Department of Treasury. Citi will sponsor on Thursday a presentation by San Francisco treasurer Jose Cisneros on expanding educational opportunity among Americans. Bank of America® executive Andrew Plepler will give a presentation on Friday called "The Scale Impact." The final speakers will be Capital One vice president Bob Kottler and U.S. Sen. Ron Wyden (D-Oregon). The pair will speak about asset-building.
Ask a Question