Jay-Z and Warren Buffett Reflect on Success
You wouldn't think a 40-year-old rapper raised in Brooklyn's public housing projects would have too much in common with an 80-year-old investor from Omaha, Neb. But you might be surprised to find out how much Jay-Z and Warren Buffett have in common.
The pair sat down for an interview with Forbes, talking about success and giving back. Although Jay-Z and Buffett found their immense wealth in different ways, they shared many of the same tactics on their way to the top.
Tips on Success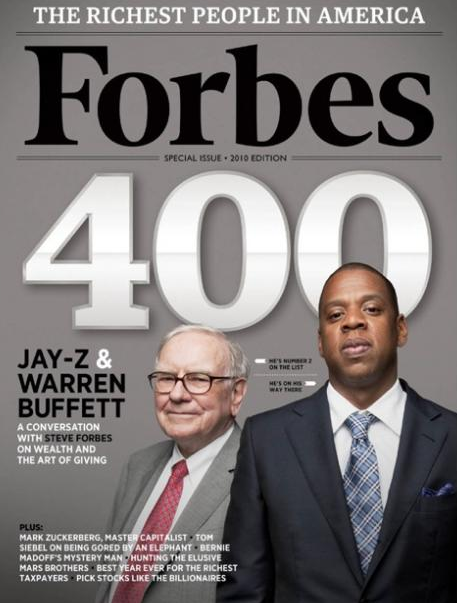 Buffet and Jay-Z talked about everything from charity to the power of luck. The two have been role models and inspirations for many. Here are some takeaways from the interview:
1. Question: "When did you realize you had to treat music as a business?"
Jay-Z's answer: "That was the greatest trick in music that people ever pulled off, to convince artists that you can't be an artist and make money…When you're in the studio you're an artist, you make music, and then after you finish, you market it to the world. I don't think anything is wrong with that. In fact, I know there's nothing wrong with that."
Buffett's answer: "Jay said it perfectly when he talked about how he's in there recording for himself, and the money comes afterwards. I got to do what I love, and it doesn't get any luckier than that. I would be doing what I do now and I would've done it in the past if the payoff had been in seashells, or sharks' teeth, or anything else."
How to apply it: No matter what industry you're in, there will be people who succeed and and those who fail. To be successful you need to respect your work, combine it with passion and evaluate business opportunities. Find a career you believe in and explore how to market yourself within that career.
2. Jay-Z: "One of the biggest things in business is to open yourself up for change. We don't have to change who we are, we have to change the way we go about it."
Warren Buffett: "Everything you do earn is cumulative. That doesn't mean that industries stay good forever, or businesses stay good forever, but in learning to think about business models, what I learned at 20 is useful to me now."
How to apply it: Be flexible. Never stop learning. Those who succeed are able to keep up with the curb. They don't stop once they reach their first milestone of success. At the same time, if you have found a method that works, hold on to that and find a way to apply it to every endeavor you undertake.
3. Warren Buffett: "Part of making good decisions in business is recognizing the poor decisions you've made and why they were poor. I've made lots of mistakes. I'm going to make more. It's the name of the game. You don't want to expect perfection in yourself. You want to strive to do your best. It's too demanding to expect perfection in yourself."

How to apply it: Sit down and think about this year. What mistakes have you made? Write down a list of these mistakes, their outcomes and a way to avoid them in the future. Even if you've had a professionally successful year you could have made some mistakes in other aspects of your life.
Warren Buffett (net worth $45 billion)
The two highly respected businessmen came into their wealth in two very different ways. Buffett grew up in the city of Omaha, where he still lives today. He was the son of a businessman and politician so he grew up learning about how money operates. Buffett's first business endeavor was as gum salesman going door-to-door at a very young age. His entire life he showed an interest in making money and through a series of good decisions and successful partnerships he was eventually able to become the billionaire he is today. Buffett is not only the second richest person in America, he is also a highly respected man and a trend-setter among other billionaires.
Jay-Z (net worth $450 million)
Jay-Z was not always the swanky rapper that men idolized and women loved. Jay-Z, born Shawn Corey Carter, grew up in the Marcy Houses in Brooklyn, New York. He got a late start to his career, releasing his debut album, Reasonable Doubt, in 1996 at the age of 26. The rest is history. Jay-Z has not only conquered the rap industry, but he has also broken into the retail, sport and restaurant markets. His multiple partnerships and other successful entrepreneurial endeavors demonstrate his business prowess and garner him as much respect as an entrepreneur as he has earned as a musician. Jay-Z is one of Forbes 15 billionaires in the making.
Ask a Question