NFL, Visa Launch Financial Football Educational Game for Kids
If you find it easier to convince your kids to watch sports than to do their math homework, Visa's new tool could be a win-win for your family. Financial Football, created by corporate partners Visa and the NFL, is half-football video game and half-financial literacy teaching tool.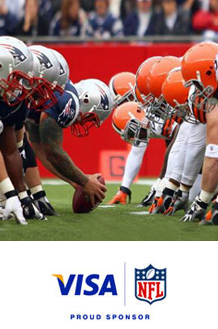 The free game allows you to choose the plays you run, but your success is based on how accurately you answer financial questions. For those who need some entertainment on the way to school, the game is available on iPhone and iPad. And if your son or daughter prefers European football instead of the American version, Visa also offers Financial Soccer.
How to Play
First things first, you'll need to choose your team and gameplay setup. You can either play against another person or against the computer, and you can select any of the NFL's 32 teams. You can choose between five minutes, ten minutes or 20 minutes of play, and choose between several age brackets, depending on how experienced you are in dealing with money. After you've selected your favorite team, you participate in a coin flip and kickoff. From there, you'll be on offense or defense, and that's where your financial savvy comes into play.
You'll be given a choice of three to six plays, labeled easy, medium or hard. If you choose the easy play, you'll get an easy financial question but you won't advance nearly as far or hold your opponent to as few yards if you answer correctly. If you pick a hard question and answer correctly, you'll pick up big yards or a big defensive stop. Answer wrong, and your opponent is likely to march down the field toward the end zone. You only have 40 seconds to answer each question.
What You'll Learn
Visa's Financial Football is a useful tool for kids from 11 through 18 years of age because it comes with three difficulty tiers that adjust to compensate for how much or little a child might know about finance at a certain age. If you want to keep teaching after your child finishes his or her game, you can download the lesson plans on which the questions were based on the Lessons page.
The teaching points included in the "Rookie" age group are simple financial starters based on the principles of saving money. As you work your way up through the "Pro" and "Hall of Fame" levels, the questions begin to focus on the basics of banking and into the world of credit scores and creditworthiness.
New Orleans Saints quarterback Drew Brees plays Financial Football with young fans
Our Thoughts
The game is simple enough for kids of almost any age to understand, but exciting enough to attract kids all the way through their teen years. The graphics aren't XBox-quality, but the fact that the product involves actual gameplay really sets it apart from similar online tools. The fact that the game carries the NFL brand name counts for a lot — it's not just a knock-off. You can choose to pit your favorite NFL team against your least favorite and select real-life football plays to outsmart your opponent.
Ask a Question