New Ken Burns Baseball Documentary Sponsored by Bank of America
Bank of America® is sponsoring "The Tenth Inning," a new documentary from famed filmmaker Ken Burns.
The bank released a statement pledging its support for the movie. The film is a sequel to Burns' famed 1994 documentary, "Baseball." Burns' new series will debut September 28 and 29 on PBS.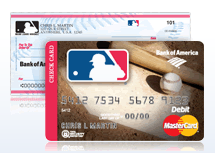 About 'The Tenth Inning'
The series is a continuation of "Baseball," an 18 1/2-hour production that gave a detailed history of America's pastime decade-by-decade. Burns interviewed hundreds of baseball legends, as well as people outside of the game for use in the documentary. It is regarded as one of the best historical series ever and won the 1995 Emmy Award for Outstanding Informational Series.
The new project will add an exploration of the past 15 years to Burns' catalog of the game's history. The topics covered will range from the steroids scandals of the 00s to the strike of the mid-90s to the New York Yankees' dynasty.
Bank of America® and Baseball
Banking and baseball might seem like strange bedfellows, but Bank of America® has some interesting ties to the sport. The bank sponsored employee baseball teams as long ago as the 1880s. Bank of America® is currently the official financial institution of Major League Baseball and a sponsor of multiple major- and minor-league teams. The bank offers debit cards emblazoned with team- and league-specific logos.
The bank will air a 30-second promotional spot called "Stitching" immediately before the film starts.
Ask a Question