Plantly Online Tool Simplifies Investing
Opening a savings or checking account is relatively simple: You put your money in and it grows at a relatively steady but underwhelming rate. Putting money into long-range investments can be a bit more daunting to the average consumer, but it can also produce much more lucrative results if you properly evaluate the risks involved.
While earning a 0.50% return on the money in your checking account might seem like a decent deal, longer-term investments come with the potential for better returns.
Bridging the gap between the simplicity of standard bank accounts and the high returns and potential risks of long-term investments is the service performed by Plantly. The website, currently in Beta mode, gives you personalized investment recommendations based on how you describe your preferences and desires in a number of different categories.
You could think of Plantly as an online financial advisor — one that is able to sort through hundreds of potential investment opportunities instead of the few standard selections offered by many brick-and-mortar firms.

"We offer hundreds of investment plans Other firms ask you a bunch of questions and then funnel you into one of just a handful of plans. This means that you are funneled into a generalized investment plan with many others — even people with wildly different preferences than yours," said co-founder Amit Pitaru. "We believe you are entitled to get a plan that fits your personal needs, so we offer hundreds of plans. Typically, only wealthy investors have access to this level of personalization. We're excited to make it accessible to everyone."
The service has not finalized its pricing plan, but Pitaru said, "one thing is for sure — it'll be affordable to users with as little as $5,000."
Hundreds of Plans
The basic function of Plantly is its ability to help you choose the correct plan for you.
It does so by asking you four simple questions about how you want to invest. From there, the site's "Risk-Aware investment interface" takes over, setting you up with a few ideal choices from the 180-plan database you started with. Plantly provides key information on each of your potential choices: How much you are likely to make, how much you could lose, and the ramifications of withdrawing your money too soon. Once you find the investment package that best suits you, the site will allow you to optimize your choice of brokerage to make sure your fee structure works as well as possible. This ensures your investment will stay balanced instead of being over- or under-diversified.
"By allowing you to experiment in this manner, you have the power in your hands to learn and get the feel for whichplans might suite your risk tolerance and needs," Pitaru said.
Learn to Invest Without Breaking a Sweat
Investing is complicated — there's no getting around that fact. But Plantly ameliorates the situation a bit by doing a lot of the legwork for you. Here are the questions Plantly uses to calculate your savings recommendations: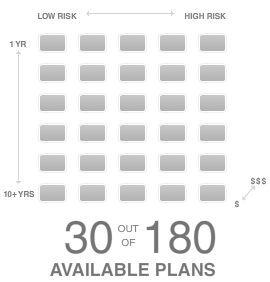 How much money would you like to invest?

This one's simple: Simply plug in a value higher than $5,000. From there, Plantly will show you how many plans meet your preferences.

How long can you leave your investment untouched?

You'll need to decide how long you want your investment to last. If you are looking for a short-term way to earn a bit of interest or you don't want to make any long-term commitments, select "1 Year" or "2 Years." If you want your money to accumulate over time, you can choose different time frames all the way to "10+ Years."

How risky are you willing to be?

You'll be faced with five risk options: Very Low Risk, Low Risk, Moderate Risk, High Risk, and Very High Risk. The least risky plans will bring lower average return while the more risky options come with better potential rewards. You need to balance your ambition for earnings with your tolerance for risk and potential setbacks.
From there, you'll see the chances of your plan losing or making money, laid out in graphical form. For one particular plan, you might have an 80% chance of making up to $1,700 and, a 9% chance of losing up to $600 and a 1% chance of losing between $600 and $1,500.
"At the heart of what we do every day is the notion that too little information can be hugely detrimental to our users, but so can too much information," Pitaru said. "Finding the right balance is an ongoing mission. It starts with prioritizing what are the most important factors for our users to consider.
"At Plantly, we think that foremost our users need to be fully aware of the risks they are about to take, and that this is the main question out of which all other questions stem."
Because the site is currently in Beta, Plantly asks that you not invest in the plans until it has worked out every possible kink in the system. You can, however, pick a plan and check back a week, a month, or a year later to see how that plan would have performed. Plantly lays everything out for you, showing how much you would have made or lost during the time since you selected the plan.
Two Years of Hard Work
Plantly is the product of about two years of research and development by Amit Pitaru and his brother, Shahar. The two brothers came to the realization that they could use their talents in web development and finance to design a tool that would take the complexities out of finding investments. Shahar refined the site's investment interface while Amit built and streamlined the website. The project is based in the Williamsburg neighborhood of Brooklyn, New York.
To check out Plantly for yourself and request a private beta invite to start tracking your own plan, visit the Plantly homepage.
If you're interested in getting a visual rundown of how Plantly works, check out the following video:
Ask a Question