Foreclosures Pull Down Housing Prices
Home prices remain low, and it's not just because the market is generally devoid of demand for new homes. The rate of mortgage foreclosures sped up in the first half of 2010, resulting in large scale reductions in home prices across the nation.
Low demand, which was caused by the recession and unemployment, and the large number of mortgage foreclosures, which pull down average home sale prices, combined to make the first half of the year a poor one for the U.S. housing market. While huge numbers of Americans were being ushered out of their homes by banks' foreclosure personnel, many more chose to rent instead of buying a new home and propping up the real estate market.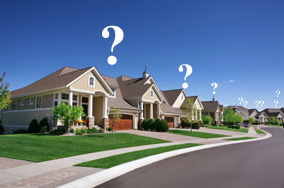 Foreclosures More Common
In the first half of 2010, foreclosure sales made up a staggering 24% of all home sales in America, according to RealtyTrac. The reason these mortgage default-based sales pulled down the overall national home prices is the fact that the average foreclosed-upon home in 2010 sold for 26% less than the average market-rate home did.
The second quarter of 2010 saw nearly 250,000 homes sold in foreclosure, a 5% rise from the previous quarter. A bit of good news: Second-quarter 2010 wasn't nearly as bad as the same three-month period in 2009. Foreclosure sales dropped 20% from second-quarter 2009 levels.
State-by-State
The depth of the foreclosure crisis depends on the state in which you live. Some states faced staggering home repossessions in the wake of the mortgage meltdown while others emerged nearly unscathed.
The Bad:
Nevada — 56% of sales were foreclosure-based. One in every 84 homes was foreclosed upon.
Arizona — 47% of sales from foreclosure. One in every 165 homes foreclosed upon.
California — 43% of sales were foreclosure-based. One in every 194 homes foreclosed upon.
Rhode Island, Massachusetts, Florida and Michigan all faced percentages of foreclosures-to-sales greater than 30%.
The Not-so-Bad
Vermont — One in every 18,389 homes faced foreclosure.
West Virginia — One in every 6,980 homes faced foreclosure.
North Dakota — One in every 5,402 homes foreclosed upon.
Ask a Question