ACE Looks to Bring Multi Billion Dollar Market Online
Despite representing more than $100 billion in annual trade, private placement sales had not made their way to the Internet — until now.
The Accredited Capital Exchange, or ACE, is a website that will act as a hub for private placement sales. ACE, demo-ed today at Finovate, aims to add transparency and efficiency to the multi-billion-dollar private placement industry. The site, from the finance professionals who created MyBankTracker.com, should serve two purposes: In addition to making private placement sales easier, ACE should facilitate more investments, in turn creating jobs.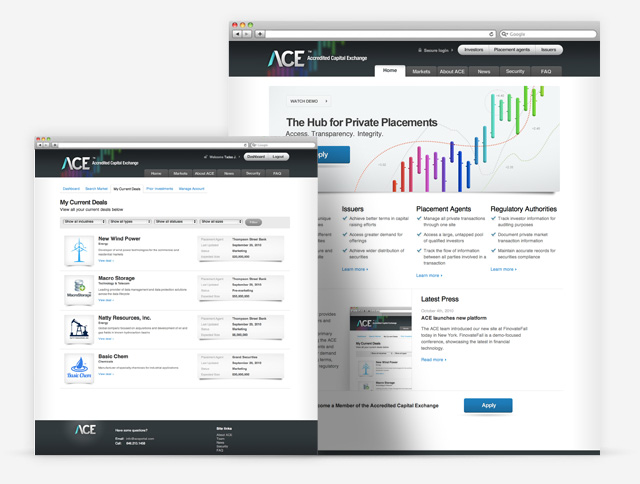 How ACE Works
The site will give qualified investors a user-friendly interface they can use to find private placement opportunities. ACE, which meets today's strict regulatory requirements, is the first comprehensive online resource for private placement investors. ACE makes it easier for companies looking to raise capital through primary private offerings, including PIPEs, private placements and interests private equity, venture capital and hedge funds.
The highly secure site facilitates communication regarding privately placed offerings. Creating a new way to access deal flow, each deal offers a company overview, transaction documents and a transaction timeline. ACE members can communicate with placement agents through the site's Community Board. ACE fills a hole in the private placements market: Because of the pen-and-paper nature of the industry until now, more than 90% of qualified investors were often left in the dark on potential deals. ACE will look to streamline the process for investors and agents alike.
The most important aspect of ACE, is that it provides Issuers with greater success in raising capital — capital that leads to new projects, new jobs and new economic growth.
The site was created by a group of experienced industry professionals. Co-founders Peter Williams (CEO) and Brendan Cahill (COO) bring more than 15 years of industry-specific experience and $20 billion of capital-raising transactions. The pair worked to develop the online interface with the MyBankTracker.com team.
About Private Placements
Private placements are securities sold to private investors instead of being made available to public buyers. Despite the relative exclusivity of the private placement business, billions of dollars worth of private placements change hands each year. Large banks, mutual funds and insurance companies often purchase private placements.
Ask a Question