EverBank Launches New Website
EverBank customers might have noticed something new when they logged on to do their Monday-morning banking. The bank over the weekend made changes to EverBank.com, the online portal through which users do their everyday banking.
Site Caters to Current, Prospective Customers
EverBank's new online property includes a clean-looking homepage divided up into sections for current customers and prospective users.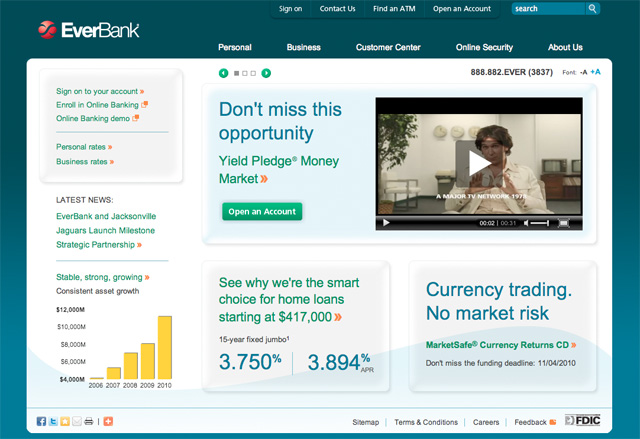 Current EverBank users can use the button in the top left hand corner of the site to sign into their accounts. From there, they can perform all the routine banking transactions they normally would through the secure EverBank Online Banking Center. Users can also access the "Customer Center," which offers account opening and management options.The "Find an ATM" feature could also come in handy for EverBank users.
If you're not an EverBank customer, the bank gives you plenty of opportunities to scope out its current rates and offerings. You can view the bank's personal account rates and business account rates at the click of the mouse. An easy-to-read graph in the lower left corner of the homepage displays the growth of EverBank's assets over the past five years. The institution's mortgage rates are prominently displayed near the bottom of the site.
One aspect of the site current and potential customers alike might be interested in is EverBank's "Online Security" center. The section of the site offers instructions on identity theft protection, FDIC insurance, online malware prevention and credit monitoring services.
About EverBank
EverBank is a large financial institution headquartered in Jacksonville, Fla. The bank is unique in that it operates a large network of brick-and-mortar branches and a fully equipped online banking service, EverBank Direct. The bank's total assets currently sit at $11.5 billion.
Ask a Question