New Visa Website Educates Consumers on Card Fraud
Visa Inc. is celebrating Nation Cyber Security Awareness Month by launching Visa Security Sense, a website meant to educate consumers about card fraud.
The site provides cardholders with tips and information on how to safeguard account information, avoid payment card scams, and resolve fraudulent charges on their cards.
Consumers Learn About Common Fraud Techniques
A study by Javelin Strategy & Research revealed that more than half of consumers considered the protection of financial accounts from fraud to be a shared responsibility between themselves and financial institutions.
"Visa's site is intended to empower cardholders with information to prevent fraud, avoid deceptive marketing practices and learn about important protections and resources available to them," said Jennifer Fischer, head of Visa's U.S. Payment System Risk department.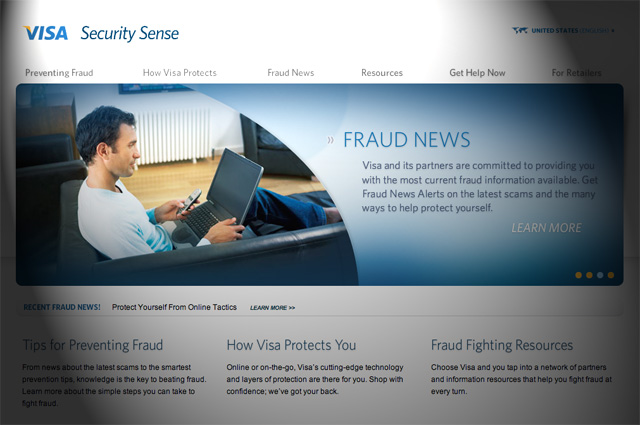 The new website offers plenty of educational information for consumers that include subjects such as fraud prevention, fraud news, web browsing security, and useful resources. Also, Visa reminds cardholders of their transaction alerts service, which notifies consumers of unusual activity via E-mail or text message, and their Verified by Visa feature, an extra layer of security when using your card for online purchases.
The site, which is available in English and Spanish, is part of the the National Cyber Security Alliance's "Stop. Think. Connect." campaign to educate consumers about protecting their personal information online.
For more information, visit Visa website or check out the following Visa press release.
Ask a Question