Families Sacrifice Education Funds in Wake of Recession
College savings funds are taking a hit as families make efforts to accommodate tightened budgets, according to a Sallie Mae survey.
The survey, commissioned by college lender Sallie Mae and conducted by Gallup, is the second annual study looking at 'How America Saves for College'. It takes an in depth look at Americans across different demographics such as age, ethnicity and class standing.
College Savings Decreased

The lone bit of good news from the survey was the 7% year-to-year increase in parents who named saving for their kids' college as their top savings priority. Although families view saving for college as a top priority, other figures show the opposite:
When asked the likelihood of your child attending some form of college those that answered 'very likely' decreased by 3% from 2009. There was a 2% increase in 'very unlikely.'
Those who intended on contributing all or most of their savings to college costs also decreased by 1% and 6%, respectively, while those planning on contributing none increased by 1%.
In terms of race and ethnicity and intended contribution to college expenses, Hispanic families saving for college took the biggest hit. Hispanic families showed a 23% increase in the 'little' section and a 10% decrease in the 'all' section.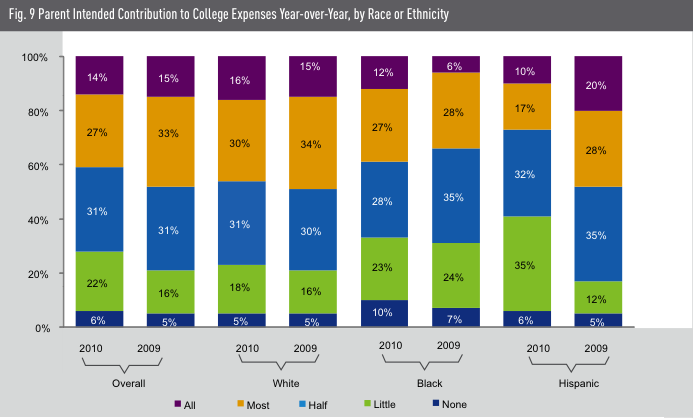 One of the most troublesome figures of this survey shows that the number of families not saving for college doubled since 2009. This does not necessarily mean that a child of a family that isn't saving will not be able to attend college, but it does mean that child will most likely have debt out of school and more of a struggle while in college.
College costs are clearly taking their toll on everyone from children to parents, and the fragile state of the U.S. economy is not helping. Sallie Mae's study also showed parents are resorting to taking money out of their retirement funds in order to help pay for their kids' education costs. This is a risky move considering the tax penalties and fees that can come with early withdrawals.
College is still a top priority for most families, and although the costs seem burdensome there are ways to prepare. It is important to start saving early and even more important to start planning early. By beginning to plan early you will be more familiar with all your savings options and can even look into investment plans.
Ask a Question