Unemployment Rate Stays at 9.6% in September
The U.S. unemployment rate stayed put at 9.6% in September as the economy lost 95,000 jobs, according to the U.S. Bureau of Labor Statistics.
After peaking above 10% in late 2009, unemployment has fallen a bit but stayed stuck around its current 9.6% rate. Between May and September, the rate has sat between 9.5% (June, July) and 9.7% (May). Unemployment's inability to budge from just under 10% has dimmed economists' hopes of a quick and easy economic recovery.
Public Sector Hurting, Private Sector Hiring

First the bad news, then the good news:
The public sector, otherwise known as local, state or federal government jobs, struggled for yet another month. Government employment nationwide fell by 159,000. The biggest hits came thanks to a loss of 77,000 census jobs and 76,000 local government jobs. The census job bloodletting is almost over: The government started out in May with 564,000 part-time census workers, only 6,000 of whom remain on payroll. The steady loss of those workers over the summer has kept the economy from coming out on the positive end of the job creation spectrum.
The private sector, on the other hand, fared better in September. Private payrolls grew by 64,000 in the month. The biggest gainer within the private sector was the leisure and hospitality industry, which added 34,000 jobs in September. Professional and business services, along with health care services, also picked up jobs. Construction was the only private industry that saw a substantial decrease (21,000).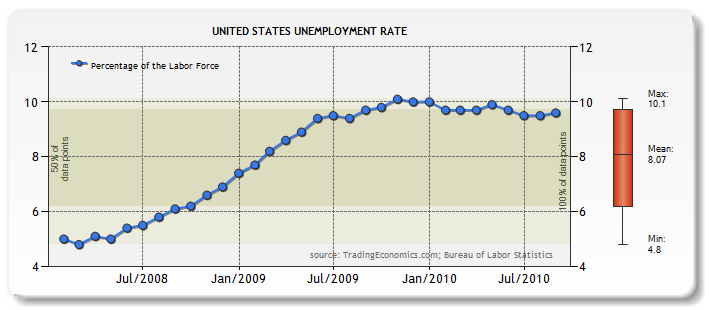 Mixed Results

Despite its bleak tone, the jobs report was not as bad as some economists had feared. Experts projected unemployment to rise to 9.7% but the relative success of the private sector held the rate steady.
Looking at a long-term picture of America's unemployment situation doesn't offer much promise. The jobless rate a decade ago sat just below 4% and hit 6% during a 2003 economic hiccup before plummeting back to near 4% in 2006 and 2007. The financial crisis and recession pushed unemployment to stratospheric levels. Joblessness topped 10% late last year before edging downward earlier this year and sticking in the mid-9% range.
For the official unemployment report, visit the Bureau of Labor Statistics.
Ask a Question