Bling Nation Goes Beyond Tap-and-Pay Technology
The tap-and-pay market is getting a little more crowded. Bling Nation made a splash at this week's Finovate conference, showing off its unique BlingTag technology, which melds social networking and tap-and-pay utility.
Convenience and Incentives
Bling Nation is similar to fast-payment systems such as Visa PayWave and Citi Tap and Pay. The BlingTag is a postage stamp-sized sticker that adheres to the back of your mobile phone. To pay at a retail location, you just tap the BlingTag on a reciever. You can purchase a new BlingTag or refill your current Bling account at your favorite retailers.
"Bling Nation allows any phone — regardless of software or manufacturer — to tap and pay at the physical point of sale," said Meyer Malka, co-founder and co-CEO of Bling Nation.
Bling Nation comes with several features that differentiate it from the other quick payment options on the market.
For consumers, the most exciting part of Bling Nation is its ability to save money. If you frequently pay using your BlingTag at a specific store, you can receive incentives like $5 coupons or free items, depending on the retailer-specific offer. The more you use the service, the more you earn.
You can also sync Bling Nation with various social networking profiles. For instance, when you link Bling Nation with Facebook, your BlingTag purchases and coupon redemptions will show up on your news feed immediately.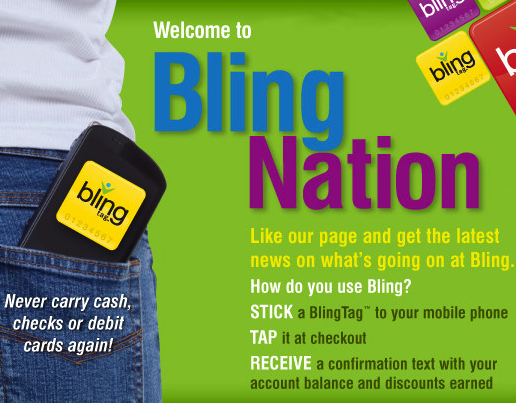 Leveraging Social Media for Businesses
Social media and social networks offer businesses unique opportunities to learn more about their best customers, but it can be tough to harness all the information out there.
Bling Nation makes that part of the equation easy for retailers. The Bling retail payment receiver displays information on your customers' activity on Facebook, Twitter, Foursquare, Yelp and CitySearch. This all-encompassing solution for businesses gives the retailer the ability to learn about consumers' shopping habits.
To offer the Bling Nation technology, all a business needs to do is sign up and receive what Malka called a "Bling Box," full of the hardware necessary to facilitate purchases.
Gaining Traction
Bling Nation is gaining traction in the market, without a doubt. The company recently announced a partnership with Fifth Third Processing, giving the service an expanded footprint across the nation. Bling Nation has already caught on in the San Francisco Bay Area and could make major inroads across the U.S. soon.
Ask a Question