FDIC to Sue Up to 50 Bank Executives
The U.S. government put its money into saving the banking industry, and now it's taking back what banks owe.
The Federal Deposit Insurance Corporation (FDIC) plans to sue officials of failed banks to try to recoup more than $1 billion of losses suffered during the financial crisis, according to a statement from FDIC chairman Sheila Bair.
The lawsuits could involve as many as 50 bank executives, according to The Washington Post.
Taking Back Part of the Failure Fund
More than 300 banks have failed since the beginning of the financial crisis in 2008. The FDIC has to pay millions of dollars every time a bank collapses, meaning the institution has racked up a total bill of more than $75 billion. The FDIC can't recover the entire $75 billion, but it is suing to bring back at least $1 billion.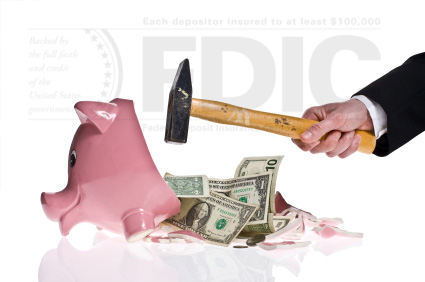 The $1 billion in question would come from executives of banks that were deemed negligent, committed fraud, or otherwise failed to meet their responsibilities. The suit could include as many as 50 bank executives.
"These investigations are now beginning to produce results, and we anticipate that many more will be authorized," FDIC Chairman Sheila C. Bair said. "As a matter of policy, the FDIC believes strongly in accountability for directors and officers whose personal misconduct led to a bank's failure."
Precedent Set in the 1980s
The FDIC has taken similar steps before. In the wake of a smaller crisis in the 1980s, the governing body sued executives, accountants and other officials and collected approximately $5 billion.
Terms of just one lawsuit have been disclosed so far. In that particular case, the FDIC is seeking $300 million from executives at IndyMac Bancorp, which failed in 2008.
Check out full lists of 2010 bank failures and 2009 bank failures.
Ask a Question