PageOnce Windows Phone App Makes Personal Finance Portable
Personal finance management websites and applications are all over the place these days. From established names like Mint and Quicken to up-and-comers like MoneyStrands and Yodlee, it seems money-tracking products are popping up left and right.
Pageonce, one of the more impressive mobile personal finance management tools, announced at Finovate this week its plans to develop apps for the new Windows 7 Smart Phone. The company's app is already the most downloaded finance app for Blackberry and Android and in the top ten iPhone finance apps.

Pageonce currently offers finance-centric mobile applications compatible with iPhone, iPad, Android, Windows Phone and Blackberry. The company announced it will be a "premier launch partner" for the Windows 7 Smartphone later this year.
Pageonce Windows 7 App
The app Pageonce put on display at the Finovate conference offers an easy-to-use and all-encompassing look at a user's personal finance situation. Just as fluid and usable — if not moreso — than Mint's smartphone app, the Pageonce product divides your finances into cash, credit cards, bills and investments, mirroring the natural layout of the Windows phone to provide a smooth experience. The app harnesses the power of the already-released Pageonce Personal Finance app and gives it the slicker feel that comes with most smartphone apps.
You can set the app up to track all the bills you pay each month. Comparing your month-to-month results or electing to receive text alerts from Pageonce can give you an idea of when your utilities are exceeding their usual costs and when you might have been accidentally overcharged. Tracking your investments can give you a short- or long-term picture of how your portfolio is faring. Your cash standing shows you an updated picture of the funds you have in your checking or savings account and can trigger alerts if any of your accounts fall under a preset balance level. Your credit card section can display your outstanding balance and when you are nearing your credit limit.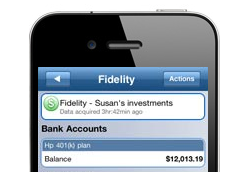 New Addition to the Pageonce Fleet
Pageonce isn't new to the the personal finance management app game. The company has a strong foothold in nearly every smartphone market and offers several different applications.
The standard Pageonce Personal Finance app is the company's main product. The free app features standard personal finance tracking along with travel information and stock quotes. The Pageonce Bills app shows you how much you owe each month and how long until your next bill is due. The Pageonce Cell Minute Tracker gives you a full rundown of your cell phone bill. Pageonce Trip Tracker takes travel information in-depth, supplying itineraries, flight information and rental car availability.
Ask a Question