Emue, Dynamics Compete For Next-Gen Credit Card Market
Two companies are at the forefront of the push toward the second generation of credit card technology. Emue and Dynamics are making payment processing more secure and more convenient — and the two could end up competing for the attention of credit card companies as more and more issuers hop on board with the cutting-edge technology.
The companies offer slightly different products built on similar platforms. Emue's focus is currently on cornering the transaction security market. The company describes its Emue Card as "a revolution in authentication." The card, currently offered through Visa Europe and branded as Visa CodeSure, aims to reduce fraud by including a 12-button keypad used to authenticate transactions.
Dynamics, which has partnered with Citi, offers cards with improved security and usability. Dynamics' Payments 2.0 technology includes a few different kinds of cards. One helps hide account information, another makes it easier to redeem rewards, and another allows users to switch between accounts while shopping.
Emue Aims to Avoid Online Fraud
The Emue Card might be something to look into if you are concerned about security when using your card to make online purchases or money transfers. To use the Emue-equipped Visa CodeSure card, you must enter a PIN code on the card's 12-button interface. The card includes a built-in battery and cannot be used for remote purchases without inputting the PIN.
If more issuers adopt The Emue Card's technology it could certainly ease the constant worry of online credit card fraud. Although online authentication technology embedded in websites has come a long way in the past few years, an on-card fraud solution represents a big step forward for the authentication world.
The Emue Card is currently in use in Europe and could conceivably make its way to the U.S. when an issuer signs on to offer Emue's service. Emue is based in Australia.
Dynamics to Make U.S. Splash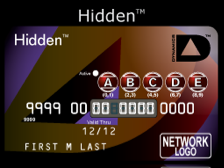 One advantage Dynamics has over Emue is its availability in America. Dynamics announced last week a partnership with Citi that will bring the world the Citi 2G credit card this November. Citi's 2G card will make redeeming credit card rewards easier: With the touch of a button you can choose whether to pay using your standard credit account or your credit card rewards or rewards cash.
The "Redemption" card represents the first time Dynamics' innovation has been harnessed by an issuer, but it probably won't be the last time. Dynamics in September unveiled its "Hidden" and "Multi-Account" cards. Hidden allows users to hide their credit card number until they enter a passcode on the card's built-in keypad. Multi-Account includes two buttons users can choose between to select which account they want to use to make an in-store purchase.
As of now, Emue and Dynamics offer two very different products that bring valuable qualities to the market. Emue is focused, for the time being, on online transactions, while Dynamics has tackled the in-hand card market. If and when Emue crosses over to the U.S., the pair could compete for card issuers. For now, it will be interesting to sit back and see the ideas these companies generate.
Ask a Question