Foreclosure Freeze Could Hit These Banks Hardest
Bank of America®, JPMorgan Chase and Wells Fargo are the three banks with the highest number of assets in foreclosed home loans, according to The Wall Street Journal.
According to data from analysis firm SNL Financial, these banks have the largest dollar amounts tied up in one-to-four family mortgage loans:
| Bank | Mortgage Loans | |
| --- | --- | --- |
| JPMorgan Chase Bank | $19.5 billion | 7.5% |
| Bank of America | $18.7 billion | 4.38% |
| Wells Fargo | $17.5 billion | 4.47% |
These are not the only high dollar amounts the banks are struggling with in the wake of widespread foreclosure halts. The banks also help other lenders dealing with foreclosure that award servicing rights to the big banks. These servicing rights tie the mortgage lenders to billions more dollars. As of June 30:
Bank of America® had $88 billion of loans serviced to other lenders.
JPMorgan carried $54.4 billion of serviced loans.
Wells Fargo held $36.4 billion of serviced loans.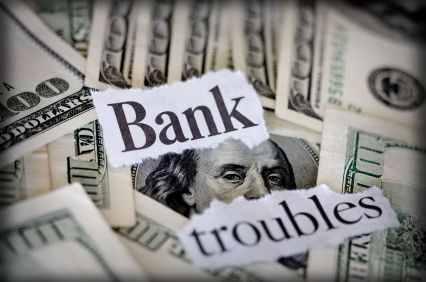 State regulators and federal lawmakers have been the leading forces in the call to halt foreclosures. Attorneys general from 49 states plan to investigate the foreclosure practices of the mortgage industry. These foreclosure halts have come at a bad time for big lenders as they attempt to sort through loans that aren't meeting stated principle and interest payments. A spokesperson for JPMorgan told the Wall Street Journal, "We have requested that the courts not enter judgments in pending matters until we complete our review." Many of the other banks involved have followed suit by asking for more time to finish reviewing documents.
SNL also ranked the highest percentage of one-to-four family loans currently in foreclosure. Barclays PLC ,with $495 million (17.7%) , New York Private Bank & Trust, with $378 million (12.05%) and Ally, with $2.1 billion (10.16%), carried the most foreclosed-upon family loans. Other data released by SNL Financial on the top ten mortgage lending companies with the biggest percentage in foreclosed loans:
HSBC — 9%
MetLife, Inc. — 6.44%
Mortgage companies from U.S. territory Puerto Rico also made the top ten list:
Doral GP Ltd. — 8.58%
First BanCorp Puerto Rico — 7.06%
Oriental Financial Group — 6.42%
Banco Bilbao Vizcaya, ArgentariaSA's Puerto Rico Operation — 6.21%.
Ask a Question