Mortgage Rates Fall For Yet Another Week
Mortgage rates fell again this week, according to data from several sources, including MyBankTracker.com.Interest rates on 30-year-fixed rate mortgages hit their lowest recorded levels, according to mortgage-backing agency Freddie Mac. This marked the 23rd consecutive week interest on 30-year mortgages has sat at less than 5%. Though the super-low rates have made the housing market especially buyer-friendly of late, the market has not started to rebound. Despite the low rates, sales numbers are expected to decline in the near future because a few big banks have halted foreclosure sales in a number of states while government officials investigate possible mishandling of foreclosure documents. The threat of deflation hitting the U.S. economy has held mortgage interest rates low.
Rates Drop on All Terms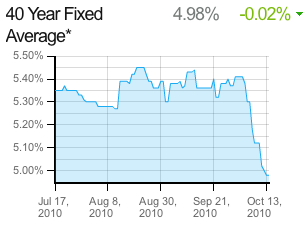 MyBankTracker.com mortgage rate data showed the following trends:
15-Year Fixed Rate: Down to 3.96% from 4.14% one week ago (-0.18%).
30-Year Fixed Rate: Down to 4.52% from 4.70% one month ago (-0.18%).
40-Year Fixed Rate: Down to 4.98% from 5.36% one month ago (-0.38%).
5/1 Adjustable Rate: Down to 3.39% from 3.52% one month ago (-0.13%).
7/1 Adjustable Rate: Down to 3.41% from 3.57% one month ago (-0.16%).
Housing Market Faces Uncertainty
Mortgage rates, which are tied to the health of the U.S. dollar, can be expected to stay low and possibly drop further until the November meeting of the U.S. Federal Reserve. At its meeting, the Fed could introduce quantitative easing to essentially depress the dollar's worth and create inflation. Current levels of inflation are dangerously near zero and many economists fear deflation could strike the U.S. economy.
Home sales are expected to slow even further from their current tortoise-like pace because of the foreclosure sale stoppage that has hit four banks in 23 or more states and could possibly expand in the near future.
Ask a Question