U.S. Bank Make it Happen Contest Offers Cash to Consumers, Charities
Starting today, October 15, you can win money for yourself and others in a variety of ways with U.S. Bank's "Make it Happen" contest.
The U.S. Bank promotion gives you three ways to enter to win $10,000 — $5,000 for you and $5,000 for your favorite person, organization or charity. You can choose where the second $5,000 goes. If your friend could use some extra money, give it to him or her. If you've been wanting to donate to a particular cause but haven't been able to scrape together any extra money, the "Make it Happen" promo could be what you — and the charity — has been looking for.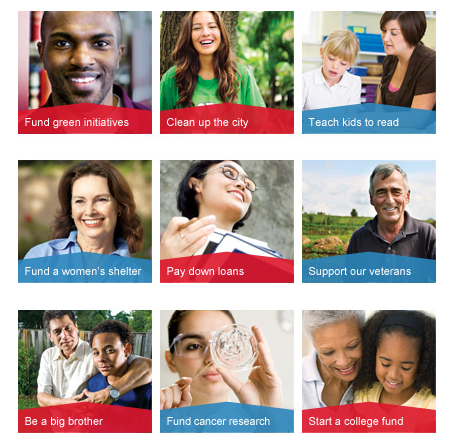 You can enter to win in one of three ways:
1. Make Purchases Using Your U.S. Bank Visa Card
If you have a U.S. Bank Visa credit card or check card, just register the card at www.usbank.com/makeithappen or text HAPPEN to 467467. Once you take that quick step, you'll receive a contest entry every time you make a purchase using the card. Only purchases made before November 15 are eligible. A random drawing will be conducted December 1 to decide the winner of the bonus money.
2. Pen an Essay
You can also become eligible to win the money by submitting an original essay to U.S. Bank. The essay should describe how you would spend the $5,000 on someone in need. This someone could be anyone from a friend to a particular charity. The essay must be original work and not longer than 75 words. The due date for the essay is November 8 and you must have a U.S. Bank Visa credit card or debit card to be eligible.
3. Play "Pick a Purchase"
The third way to win is to visit the U.S. Bank Make it Happen website and play the "Pick a Purchase" game. You can only play once per day. Winners will be selected daily and given gift cards worth $100, $50, or $25.
Ask a Question