Gold Monopoly Game on Display in New York
Usually Monopoly money isn't worth a whole lot. In this case, it is. A Monopoly board game made out of solid gold and encrusted with jewels is currently on display at The Museum of American Finance in New York City. The price tag for this top-of-the-line board game? About $2 million.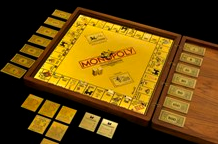 The specs on the gold Monopoly game are impressive.
The board is made out of solid gold and all of the properties on the game board are set in gems. The dice set is especially impressive: Worth $10,000, each of the 42 dots on the dice includes a diamond, according to a Museum of American Finance press release.
The gold-bound game was created by jeweler Sidney Mobell, who started in 1988 and worked every day for a year on creating the Monopoly game. Mobell has also crafted upscale yo-yos and a gold toilet seat during his career.
Museum Goes Monopoly-Crazy
The Museum of American Finance will display the set for two years, starting today. In addition to putting the game on display, the museum also hosted a pair of Monopoly tournaments on Friday, one for kids and one for adults. It's only fitting that Monopoly, a game based on real estate and greed, would make a two-year appearance on Wall Street, which recently tarnished its image by getting a bit greedy in regards to the real estate market.
Check out more information on the museum's Monopoly exhibit.
Ask a Question