Bank of America Foreclosures to Resume in 23 States
Bank of America® will resume mortgage foreclosures in 23 states.
The bank, which earlier this month stopped foreclosures across the nation, announced its plans to restart foreclosure sales in nearly half of those states by October 25, which is next Monday. The 23 states in which mortgage foreclosures will restart are the territories in which foreclosures are governed by the courts. Bank of America® initially suspended foreclosures in those 23 states a few days before putting a stop to all of its foreclosures. Chase Bank, PNC Bank and Ally GMAC have all stopped foreclosures in those 23 states.
This seemingly rapid timetable is good news for Bank of America®, as the longer the foreclosure freeze goes on, the more money the bank loses out on. The bank reported that it had not found any improper paperwork so far. It will resume 102,000 foreclosures next week as a result of the decision.
"Our initial assessment findings show the basis for our foreclosure decisions is accurate," Bank of America® said in a statement. "Our decision to review our process and later, to extend our review to all 50 states, has been an important step to give customers confidence they are being treated fairly."
Foreclosure Freeze Background
The foreclosure freezes first started in late September when Ally GMAC's mortgage division stopped foreclosures in 23 states to investigate whether its employees were taking all the proper steps before making home seizures. More specifically, lawyers had uncovered potentially fraudulent measures being taken by the bank. Employees known as "robo-signers" were signing off and filing thousands of pages of paperwork they most likely never took the time to read. Banks probably resorted to robo-signing in an effort to get out from under huge backlogs of foreclosures that stacked up due to a high volume of defaults after the mortgage meltdown and financial crisis.
Ally was just the first domino to fall. Ten days later, Chase Bank stopped foreclosures in the same 23 states to investigate the same potential problems. A few days after that Bank of America® halted foreclosures in those 23 states. PNC Bank followed suit later that week on the same day Bank of America® curtailed foreclosures across the rest of the nation. The federal government does not support the idea of a nationwide foreclosure moratorium, but attorneys general in 50 states are taking part in a joint investigation of foreclosure practices.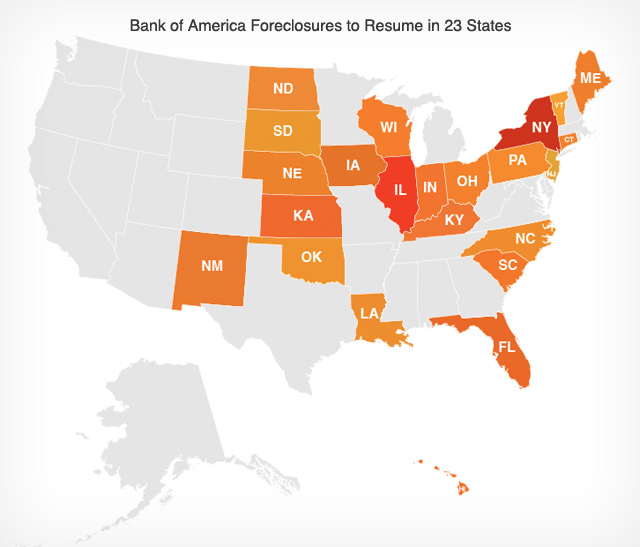 Here's a list of the 23 states in which Bank of America® will begin reissuing foreclosures:
Connecticut, Florida, Hawaii, Illinois, Indiana, Iowa, Kansas, Kentucky, Louisiana, Maine, Nebraska, New Jersey, New Mexico, New York, North Carolina, North Dakota, Ohio, Oklahoma, Pennsylvania, South Carolina, South Dakota, Vermont, Wisconsin
Ask a Question