New Credit Card Rules From the Fed
The U.S. Federal Reserve is reevaluating its credit card industry rules and regulations to appease angry consumers who have seen their interest rates and fees rise in the past few months.
The biggest culprit behind the rising interest rates — aside from the banks themselves — might be the Credit Card Accountability Responsibility and Disclosure (CARD) Act. The Act, signed in 2009, was created to protect consumers and tighten restrictions on fees and interest rates requiring that banks cap and analyze the two.
Banks Scramble to Make Profits
The CARD Act was released in a few separate stages so banks were constantly scrambling to push interest rates before regulations hit to ensure they were losing as little revenue as possible. The biggest changes of the regulations specifically banned card issuers from raising rates unless customers are overdue more than 60 days on existing accounts. The new regulations also made sure that banks gave 45 days notice before making changes to contract terms.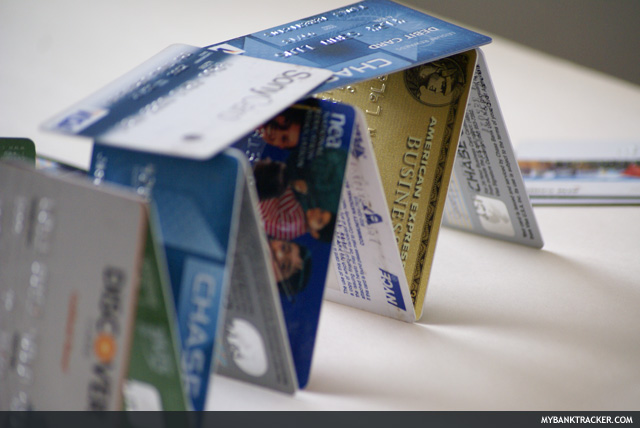 Bank of America®'s third-quarter financial statement reported a loss of more than $7 billion, in large part due to losses from new credit card regulations.
The Fed Ups Its Game
The Fed, still trying to figure out the best way to regulate bank operations, has decided to step in and block certain practices. The governing body stated, "promotional programs that waive interest charges for a specified period of time are subject to the same protections as promotional programs that apply a reduced rate for a specified period," according to The Wall Street Journal. The Fed was referring to the different bank deals and special offers banks issued in order to entice customers to bank with them before slamming them with different fees and rates after the promotional period is over.
Two examples of banks that adjusted their fee structures to compensate for the laws were Citibank and First Premier Bank.
Citibank tried to bounce back from the CARD Act by raising existing customers' interest rates up to 29.9% but offering a rebate of 70% of finance charges if they were able to get their payments in on time. The problem with this practice is that the bank had a disclaimer saying it could revoke the rebate at any time.
First Premier Bank had a deal in which it offered a card that had a $300 credit limit with a $75 annual fee as well as a $95 processing fee. This type of offer was targeted towards lower income customers who struggled to meet the costs of these types of credit lines.
Practices such as these would be prevented by new Fed rules. The Fed also pushed to have customers evaluated by individual income as opposed to household income to paint a more accurate picture of how a consumer might be able to keep up with credit requirements.
This new push from the Feds to punish banks for their attempts to find loopholes in old regulations is good news for consumers, but it begs the question: What will be the big banks' next move?
Ask a Question