Visa and Kiva Issue Small Business Microloans
Visa has partnered with microloan website Kiva.org to generate more than $1 million in small business loans.
Visa will contribute $1 million to the Kiva to help it expand its microlending model to additional locations across the U.S., according to a Visa press release.
"This partnership advances a shared mission of both Visa and Kiva: helping small businesses grow and ultimately create jobs," said William Sheedy, Group Executive, Americas for Visa Inc. "For many small business owners, a microloan can have an immediate impact and be a critical catalyst for their long-term success."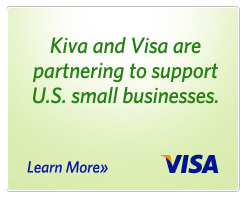 Microloans Help Businesses in Need
The recession has made the commercial lending environment a tough one over the past several years. Although this summer saw an uptick in commercial lending, from fall 2008 through spring 2010, banks made credit much tougher to come by for businesses, namely small companies.
Kiva.org is a site meant to facilitate lending to small businesses. The site, which just celebrated its five-year anniversary, makes it possible for everyday citizens to grant microloans worth as little as $25 to small businesses. The small businesses that could potentially benefit most from Kiva are low-income entrepreneurs in developing nations. More than 477,000 people have donated more than $170 million to businesses around the world.
Visa is not the first bank to take steps to help small businesses. Bank of America® recently issued $3.7 million in grants to microlenders to help facilitate small business lending. Bank of America® also added 1,000 employees to its small business division.
Ask a Question