PNC Bank, Fifth Third Report Profits in Third-Quarter
PNC Bank and Fifth Third Bank on Thursday became the latest banks to report third-quarter profits. The two banks join the ranks of other large institutions to have successful quarters.
PNC Posts Strong Showing
PNC performed especially well, upping its third-quarter earnings to $1.1 billion, a 33% increase from $823 million in the previous quarter. PNC reduced the amount of money it had set aside for loan losses, signaling confidence in its financial standing and the health of the economy as a whole.
"We saw significant sales momentum across the franchise in the third quarter as PNC's businesses continued to grow clients and deepen customer relationships," said James Rohr, CEO of PNC. "While the outlook for the economy remains uncertain, I am confident that our business model will continue to deliver differentiated results."
The bank suffered from a quarter-to-quarter loss of revenue, but that was offset by a reduction in the money set aside to cover credit losses. PNC's Tier 1 common capital ratio, sometimes used to measure bank health, improved to 9.6% from 8.3% at the end of the previous quarter at 6% at the end of 2009.
For more information on the bank's third quarter, check out the PNC quarterly report.
Fifth Third Improves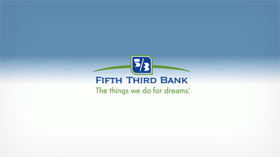 Fifth Third, a regional bank based in Ohio, recorded a $238 million profit in the third quarter, a 24% increase from the previous quarter. The performance was a complete turnaround from the bank's loss of $97 million a year prior.
The bank's biggest gains came from releasing $500 million previously set aside to cover possible loan costs. It also performed well in the mortgage department, bringing in a $232 profit in the sector, about double what it made a quarter earlier.
Follow the link to view Fifth Third's quarterly report.
Ask a Question