Hillcrest Bank Fails as Closures Sweep Through 5 States
This "failure Friday" was not a good one for the banking industry in some of the states hit hardest by the financial crisis. Two Florida-based banks, two institutions from Georgia and three other banks failed October 22, according to the FDIC.
The nationwide total of bank failures this year is now 139. The seven-failure Friday was the worst since the week of August 20.
Progress Bank of Florida, The Gordon Bank, First Bank of Jacksonville, First Arizona Savings, Hillcrest Bank, First National Bank of Barnesville and First Suburban National Bank all were closed Friday by regulators.
The largest of the failed institutions was Hillcrest Bank. Hillcrest, based in Overland Park, Kan., held $1.65 billion in total assets and maintained 41 branches. The branches will reopen Saturday as locations of the National Association of Hillcrest Bank. Hillcrest is one of the largest banks to fail in recent months. The government's Deposit Insurance Fund will cover more than $300 million of the cost of Hillcrest's closing.
Illinois, which has suffered 17 bank failures this year, experienced the failure of First Suburban National Bank this week. First Suburban, based in Maywood, Ill., held nearly $150 million in assets and four branches. It will be taken over by Seaway Bank and Trust Company.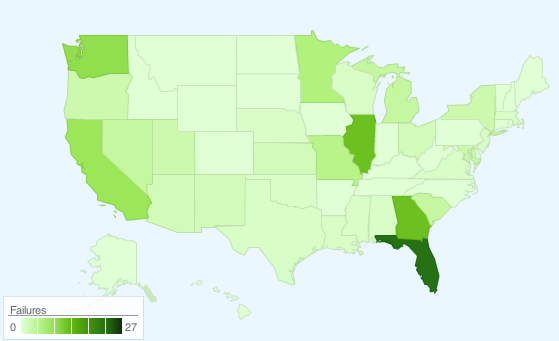 The larger of the two Florida banks to fail was Progress Bank of Florida. Progress Bank, headquartered in Tampa, Fla., had two branches and approximately $110.7 million in assets. The bank's branches will reopen Monday as locations of Bay Cities Bank. The government paid $25 million from its deposit insurance fund to cover the costs of closing Progress Bank.
First Bank of Jacksonville was the other Florida-based bank to fail. Headquartered in Jacksonville, Fla., First Bank carried about $81 million in assets at its sole branch. That branch will reopen Monday as a branch of Ameris Bank. First Bank's closure cost the FDIC $16.2 million. Florida has been the nation's most bank-failure-prone state this year, with 27 institutions going under this calendar year.
The 14th and 15th Georgia-based banks to fail in 2010 were the First National Bank of Barnesville and The Gordon Bank. The Gordon Bank was based in Gordon, Ga., and held $29.4 million at its lone branch. The location will reopen Monday as a part of Morris Bank. The failure of The Gordon Bank cost the FDIC's fund an even $9 million. The First National Bank of Barnesville, based in Barnesville, Ga., held $131 million in assets across two branches, which will be assumed by United Bank.
The FDIC could not find an assuming institution for one bank, First Arizona Savings. First Arizona Savings, based in Scottsdale, held nearly $273 million in assets. Checks will be mailed to banking customers to cover the costs of deposits by October 25.
Check out these links if you're curious about steps to take when your bank fails or what happens when a bank fails. View a full list of 2010 bank failures.
Ask a Question