Average Yields on Interest-Bearing Accounts Fall: Ally, Discover, Capital One
Interest rates on deposit accounts have recently fallen at a number of large banks, including Capital One, Discover Bank and Citibank.
Low Rates Across the Board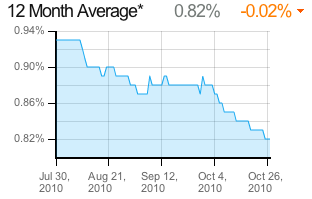 Some of the biggest names in the banking industry dropped rates Tuesday and Wednesday. Here's what the banks did:
Capital One dropped its InterestPlus Online Savings rate to 1.30% from 1.35% on Wednesday morning. That interest rate is valid for balances of more than $1,000, as customers with less than $1,000 earn no interest. The account's APY remains among the best savings account interest rates available.
Discover Bank lowered its CD rates by 0.10% to 0.15% across the board. Interest rates on the bank's shorter-term CDs dropped by 0.10% while longer-term CDs endured a 0.15% drop. For example, the bank's standard three-month CD fell to 0.60% from 0.70% while its 84-month CD dropped to 2.755 from 2.90%. Discover CDs, which in most cases come with a $2,500 minimum balance requirement, still carry above average APYs.
Citibank CDs fell by between 0.05% and 0.25% on Tuesday depending on their term. Citibank CDs between five and 24 months lost 0.05% from their APYs, while the 15-month CD dropped by 0.15% and the 60-month product fell by 0.25%. The Citi CDs that underwent rate scale-backs offer lower-than-average returns.
Ally reduced three of its CD rates by small margins Wednesday morning. The three CD accounts affected by Ally's relatively minor rate slash are the 24-month (-0.02%), 36-month (-0.04%), and 48-month (-0.01%). Those particular rates still sit near the top of the CD rate charts at between 1.62% and 2.14%.
Low Fed Rates, Low Interest Rates
The average 12-month CD rate is currently at 0.82%, down from an already low level of 0.93% three months ago. The average rate on a savings account is 0.52%, down from 0.53% three months earlier.
The main reason banks have held interest rates low is because the Federal Reserve is holding its Federal Funds rate at a near-zero level. Since the economic collapse, the Fed has held its main rate at an extremely low level, giving loans to banks with almost no interest rate. The Federal Funds rate is currently at 0.19% and has sat between 0.20% and 0.15% in October.
Ask a Question