Credit Card Companies Spend $83M Marketing on College Campuses
College is a time of learning, partying, and sometimes experimentation. Soon, students seeking to gain the ultimate "College Experience" can add establishing credit to the collegiate must-do list.
CARD Act Makes Information Available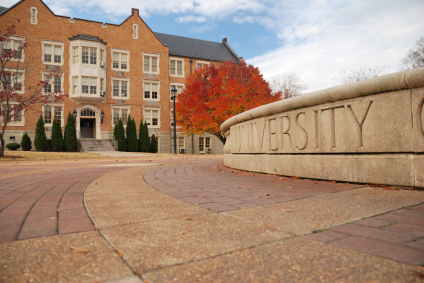 Banks are paying millions of dollars to colleges in order to be able to market credit cards to students and faculty, according to a report from the Federal Reserve Board of Governors. Thanks to the CARD Act, a plan set to make credit card companies more transparent and honest with consumers, banks are now required to disclose the amount paid to colleges for campus recruiting. The first report on bank spending towards college advertising came out this past Monday. According to the Report to the Congress on College Credit Card Agreements, three major credit card issuers accounted for 96% of all the college credit card agreements submitted to the Board of Governors in 2010.
Bank of America® a Big Spender
FIA Card Services submitted 906 college credit agreements and made payments totaling over $61 million dollars. FIA, which is a subsidiary of Bank of America®, submitted more than 15 times as many card agreements as any other issuer and had the highest number of new accounts, 38,610.
US Bank came in second with 60 agreements submitted — still nowhere near FIA's 906. US Bank's payments totaled $2.5 million and 7,911 new accounts were opened under the new agreements with higher education institutions and affiliated organizations.
Chase submitted 36 agreements during 2009 but paid about $11 million more than US Bank. Chase's new agreements with universities and colleges allowed the bank to open 529 accounts.
The banks ended up paying a combined total of $83.5 million and opened a total of 53,164 accounts in 2009. One big change from the CARD Act that will inevitably affect banks marketing to college students is the age requirement on credit cards. Students under 21 now must have co-signer on the account to obtain a credit card. This new rule is good news for parents who are worried about their child's ability to manage finances at such a young age. College students will have the ability to start establishing good credit and parents can monitor their kids' spending to make sure they are meeting these goals.
Establishing Good Credit
A credit card is a very powerful thing. Used properly, it can benefit your child down the road. It is important to go over the ways to establish good credit and explain to your child what can happen if the card is used improperly.
College comes with a lot of temptation and getting a credit card is a big decision in which you, the parent, should be involved. If your child decides he or she is ready to take on the financial responsibility of a credit card the best thing to do is to shop around and evaluate different options to find the type of card that is best for your child's lifestyle.
Ask a Question