PayPal Wants to Control Money Movement
PayPal this week introduced the world to PayPal X, a new platform of services designed to change the way people move their money.
PayPal's announcement came with a number of new services and products designed to allow publishers (websites, apps) and financial institutions to enhance their payment platforms. For a full breakdown, here is the press release. In my opinion, two of the additions in particular positioned PayPal at the forefront of consumer spending. These products are PayPal for Digital Goods and the Person2Person (P2P) service.
While others may have a different reaction, here is why I think these two services will ultimately give PayPal a strong position in the market.
Social Micropayments

In what was probably the biggest announcement of the day, PayPal finally unveiled its micropayment product that lets consumers pay for digital goods and content in as few as two clicks without having to leave their gaming, video, news, music or other digital experience. Designed for purchases under $12 (which are common), consumers will only be charged 5% plus $0.05 or a fee of $0.10 for a $1 purchase. This is considerably cheaper than the standard $0.33 PayPal charges now and is also at a level I believe most consumers will pay for the convenience.
With 90 million active PayPal accounts, this micropayment experience is equivalent to a user using Facebook Connect on login to another site – Quick & Easy. And with the Digital Goods industry on pace to hit $6 billion in transactions by 2013, (PayPal did $2 billion alone in 2009), this new approach has created a consolidated platform for consumers to move money in a digital space.
To top it off, PayPal also announced partnerships with online goliath Facebook for their Facebook Credits and more interesting FourthWall Media, which demonstrated a "Buy Button" that lives on your TV and is essentially a one-click action to buy products via your PayPal account.
Could this shift toward speedy transactions be a bad thing for the consumer? NO. Anyone using iTunes has been doing this for year, and this approach means we no longer need to carry multiple accounts. This essentially gives PayPal a spot in your wallet.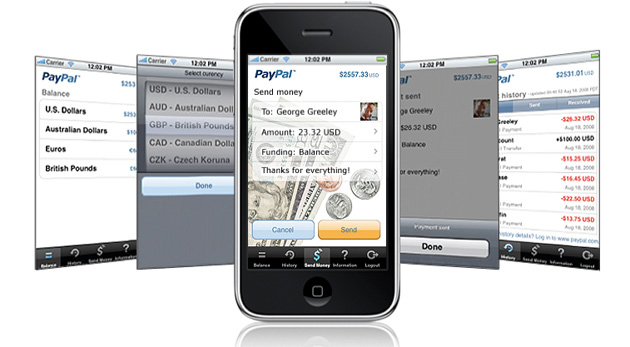 Person2Person Payments
While the act of person2person payments is nothing new, the penetration of mobile banking has pushed banks to look at ways to offer additional features within their mobile apps.
Earlier this year ING Direct did just this, adding a P2P option to its iPhone, Android and Blackberry app. Over the summer, Chase did the same with its QuickPay platform. During the PayPal event, USAA and Discover Bank announced partnerships with PayPal to integrate the payment system into the banks' platforms.
With these partnerships, it seems banks have willingly given PayPal control of how consumers move their money.
Innovation and Banking
When I originally wrote about this topic, I focused on two companies offering payday loans and how technology has made this experience almost too simple. In PayPal's case, technology seems to be moving in a more positive direction, creating a massive revenue stream for the company and its partners.
But are partners like Facebook and USAA Bank giving to much control to PayPal? Do we really want one company controlling the flow of this much money digitally?
Ask a Question