Bank of America Introduces New Website Homepage
The boundaries between banking and technology are quickly converging as banks are pushing consumers to conduct their banking online. Bank of America redesigned its homepage to be more user-friendly and aesthetically pleasing.
Importance of Design
According to the awards and recognition section on the bank's website, Bank of America in March 2010 received the top ranking in online banking excellence and online credit card features and capabilities, issued by different research groups. Corporate Insights Inc., a corporation that evaluates company growth and excellence awarded Bank of America four Gold awards in Bill Pay capabilities, transfer capabilities, alert services and private site help. The bank also took a Silver award in account information and two Bronze awards in self-service features and online applications.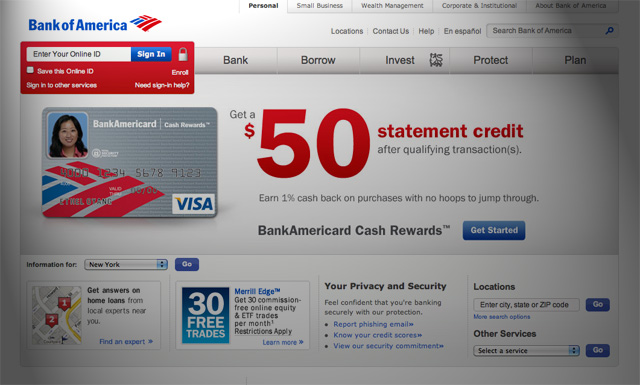 The bank is no stranger to having its website evaluated and compared. The bank's ability to constantly add innovations to its website as technology evolves and the needs of users change makes it a strong online banking competitor.
The New Homepage
The redesign offers a cleaner, sleeker look for consumers who visit the page. The bank listed three main goals of its new homepage:
Simplified Navigation: Bank of America wanted to make banking, borrowing and investing easier by installing drop-down menus that have all its products and services organized in one section.
Better Communication: Consumers can now use interactive tools that will boost financial education and make important resources and announcements more readily available.
Overall Improved Design: The bank has made its pages more accessible and readable by modernizing the page design. Customers will be able to sign into their accounts and navigate with greater ease.
To the untrained eye, the changes may seem more aesthetically oriented, but small differences in programming like adding better drop-down menus or restructuring search bars will make the website more user-friendly. Having a well designed website will not only develop positive brand association, but could also attract new consumers. A good balance between usability and image appeal is necessary to a build a brand's web presence.
Ask a Question