TD Bank's New High-Yield Savings Offers Bonus for Linked Checking
TD Bank is offering reason for customers to link their checking and savings accounts. If you link a TD checking account with your TD High-Yield Savings account, you can earn 1.20% interest.
This move comes on the heels of Wells Fargo beginning to require linked accounts to earn any interest on its checking account. While Wells Fargo's decision essentially penalizes checking customers who do not want to maintain a savings account at the bank by eliminating their interest, TD's move gives consumers incentive to link accounts without cutting rates for those who don't wish to open both a savings and a checking account.
The new High-Yield Savings account replaces TD's Elite Savings account. The bank also offers Convenience Savings, Young Saver and Health Savings accounts.
Higher-Than-High-Yield Savings
TD Bank's current High-Yield Savings interest rate is 0.95%, a very competitive rate, especially for a large, brick-and-mortar bank. TD's standard high-yield savings account carries an interest rate equal to that of online bank ING Direct and just greater than that of another popular online bank, NewDominion DIRECT.
Hold a TD checking account as part of your portfolio and that rate will jump to 1.20% on balances of more than $10,000. That would be one of the best savings interest rates tracked by MyBankTracker.com. You would need to maintain a balance of $10,000 or more to receive that rate and avoid a $15 monthly fee. If you held less than $10,000 you would earn 0.30% interest with a linked account and 0.05% with a standard High-Yield Savings account. The checking account does not need to be a newly opened account.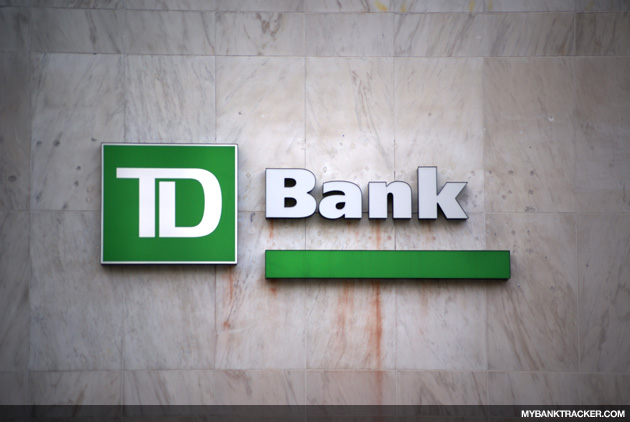 TD Bank, the American branch of Canada-based Toronto-Dominion Bank, has locations along the East Coast. The bank has branches throughout New England and New York and is rapidly expanding along the Atlantic Coast and into Florida.
One Negative: Higher Monthly Fees
As with most good things, there is a small catch. The monthly fee on TD High-Yield Savings (with or without the checking account) rose to $15 from $12. You can avoid that fee by carrying at least $10,000 in your savings account. If you choose to link your TD checking and savings accounts, you still must maintain a $10,000 balance in your savings account alone to avoid the fee. The $15 per month fee is well above the $3 per month average, which is understandable considering the 0.95% interest rate (or 1.20%, if you opt for linked accounts). Also, you'll earn interest of either 0.05% or 0.30% if you carry less than $10,000 in your savings account.
Some Fine Print
TD Bank's linked checking and savings account offer is a promotional rate only available for those who link their accounts by November 30.
According to a TD Bank customer service representative, the enhanced interest rate will be good for at least three months after the end of the promotional period (Nov. 30), meaning you would receive 1.20% interest on the savings account through the end of February 2011. The fine print on TD Bank's informational page notes that the rate is subject to change at any time.
Ask a Question