College Tuition Rates Increase
Colleges are not doing much, it seems, to help families who are struggling with finances due to the recent recession. CNNMoney.com reports that the cost of public universities will increase sharply in the next year.
Public vs. Private Tuition Increases
According to the article, both private and public universities are slated to see tuition hikes. Private universities are still more expensive, at an average of $27,293, but public universities experienced a higher jump from the 2010 school year to the 2011 school year. The average in-state cost of public universities has peaked at $7,605 a year, a 7.9% increase, while private schools have only seen a 4.5% jump.
Public schools receive funding from state budgets, which causes the state-to-state disparity in tuition costs. States are struggling with their budgets and the first entities to see cuts are public institutions, resulting in the bigger hike. In the past decade public schools have seen an average yearly tuition increase of 5.6%, 2.6% higher than private institutions.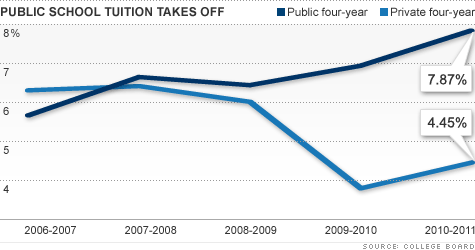 Families Struggle to Pay
Any sort of rate increase is unwelcome news for consumers, but these come at a particularly difficult time. In the wake of the economic recession, many families have been forced to cut back on their college savings and reevaluate their budgets. A survey done by Sallie Mae shows that 2010 saw an increase in families not planning to save for college and planning only to put away a little for school, and decreases in the number of those families planning to pay for all or most of college. This new data on fee increases places an even larger strain on these families.
On top of the increasingly high cost of higher education, fewer recent graduates are getting hired right out of school, delaying students' ability to repay college loans. Many students have chosen to move back home while others decide to get advanced degrees. The rising cost and perhaps declining value of a college education could impact the way prospective students and their families view higher education.
How to Prepare
The best piece of advice for planning for college is to start saving early. There are multiple programs and savings options that families can look into, including:
SEED — A proposition to help low-income families pay for college.
529 Plans — An investment on education where families can lock-in a tuition and start making payments as early as they want.
Coverdell Education Savings Accounts — Structured similarly to Roth IRAs, these accounts also allow for savings up until the child is 18.
Ask a Question