As all retailers prepare to issue their holiday sales, one major credit card company is looking ways to take advantage of the increased consumer spending. Discover Card is offering its customers a holiday bonus by doubling cash back rewards for online shoppers from November 15 to December 31.
Discover's Holiday Rewards
The promotion applies to current customers and those who sign up during the promotional period with the Discover More, Open Road, and Motiva credit cards. Instead of the typical cash back promotion of 1% for a month and a half, customers will receive a 2% cash back bonus that only pertains to online purchases. The promotion has a $1,000 purchase limit. If you spent the $1,000 maximum you would earn $20 instead of $10.
This holiday incentive of $10 extra might seem unimpressive, but at least it offers a little extra spending money. Credit card companies every where are boosting their cash-back incentives as they try to keep current users and recruit new customers. The great thing about this current bonus is if you are already a customer and are planning to spend money online there are no catches or tricks to the promotion.
Visit Discover's holiday bonus page for more information.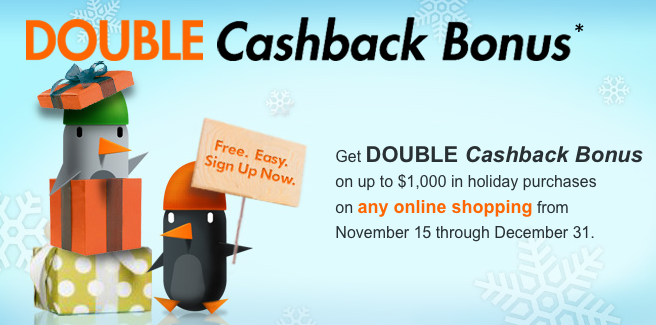 Credit Card Incentives Under Fire
The Credit Card Accountability Responsibility and Disclosure (CARD) Act was signed into law the goal to increase transparency to improve Americans' relationship with money and financial institutions. As a result, many credit card companies have come under closer scrutiny. One thing that has caught the attention of regulators are credit card promotional programs, particularly ones that waive interest charges for a certain period of time. Users should be cautious when it comes to signing up for a new card offering a certain APR rates and keep a close eye on their account while they manage it. This particular incentive from Discover is self explanatory and has no negative impact on the card holder once the promotion expires.
Discover's main goal is to keep up with competitors such as American Express, Visa and MasterCard throughout the holiday spending boom. The promotion could spark interest among consumers, but those who actually do the math and realize it's just an extra $10 might be turned off. Everyone is trying to take advantage of spending during the holidays and there is no doubt that other companies will be offering rewards as well. The thing that sets apart this particular promotion from Discover is that the issuer is not targeting a specific market segment, but instead offering the incentive to all card holders.
Odysseas Papadimitriou, a personal finance expert and founder of Cardhub.com gave a statement on the issue to TheStreet.com: "I do not think that this will prove to be as effective of an approach as opposed to targeting a specific group, such as a promotion for customers who have not used their credit card in the past six months."