Fed QE2 Announcement Shakes up Stocks
The Federal Reserve made its big "quantitative easing v.2″ announcement earlier today, which was followed by stocks trading at slightly higher rates. The Fed's plan to buy $600 billion in Treasury securities in an effort to speed up the slow economic recovery has focused everyone's attention on the uncertain stock market.
Announcement Results in Slight Increase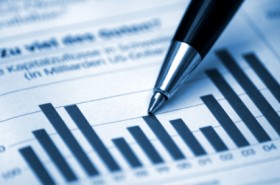 According to The Associated Press, the Fed's highly anticipated announcement answered questions about the actual size of the program — originally predicted to be around $500 billion. The meeting was expected to have a direct affect on the stock market because of the more concrete view of the plan it gave investors, but in reality, the market didn't fluctuate too much. The data showed small increases in the the Dow Jones Industrial Average (0.1%), the Poor's 500 Index (0.2%) and the NASDAQ composite (0.1%).
The Dow Jones Industrial Average sits currently at 11,195.72, but skeptics wonder whether the slight change in stocks is the true beginning of an upward trend.
Stocks Unstable throughout Announcement
During the announcement stocks teetered at lower levels, but soon closed above the unchanged line for the day. Although there was slight market activity, the October jobs report set to come out later this week is expected to provide a more conclusive indication of where the market is headed. Some investors seemed to be pleased with the slight increase but the overall sentiment seemed to be that the news and results were anticlimactic.
Ask a Question